Gartner has announced that, once again, IFS has been named in the Leaders' section of the 2019 Magic Quadrant for Field Service Management.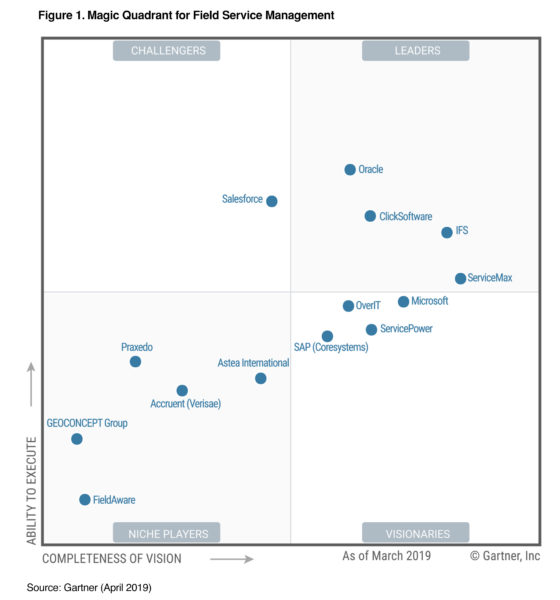 In many ways, Gartner's report outlines what we already knew: the field service landscape is rapidly changing, and IFS is ready to help organizations lead that change. The report paints a picture of a maturing service landscape: cloud and mobile technologies have saturated the market, making service outcomes easier to manage for both you, as well as your competitors. These lower barriers to entry have created a surge of competition and a strain on the service workforce. For that reason, organizations are looking for solutions to help optimize processes and improve customer experience. In turn, service management software sales are on the rise, up 18 percent from 2017.
This has led to a shift among service organizations towards excellence through optimization, and firms are laying the groundwork by focusing on utilities like cross-organization integration, outcomes-based contracts, and zero-touch service in order to maintain a competitive edge. This speaks to a growing imperative among all service firms to build a digital-first organization, focus on process improvements, workforce excellence, and passing those time and value savings onto their customers.
In addressing those challenges, Gartner has identified IFS, and the newest version of its Service Management solution, FSM 6, as a Leader.
FSM 6's breadth of capabilities remains unmatched across the industry. This is true both in terms of the scalability of our service offerings to fit the needs of businesses of any size, but also in terms of the raw scope of our capabilities. For example, with APIs and use cases for connected assets, we're well-positioned to be the solution to help you maximize those no-touch service opportunities, thus ensuring your team is spending their time on jobs that deserve their attention.
IFS not only does a lot, but we're pretty good at everything we do, as noted by Gartner's recognition. Some organizations will claim to have tools like reverse logistics, but when it comes to using those tools within the parameters of your unique business needs, the capabilities don't hold up. With IFS, you can have confidence that our portfolio of capabilities have the power to back them up. IFS knows service, which means we know that no two companies execute service the same way. With IFS, you don't need to upend your business processes in order to get our software to supercharge your business. FSM 6 adapts to your needs, not the other way around.
This breadth and depth means that we are in a position to help businesses accelerate their service solutions, no matter what the industry.
Of course, the Magic Quadrant methodology from Gartner is designed so that you can't become a leader simply by having the best application. In addition to the scope of a solution, the Magic Quadrant also takes into consideration how we work with our customers, our vision for service, and how we help customers succeed, to say nothing of the ambition and scale of our business growth. In all these areas, we believe IFS FSM 6 truly shines. With IFS FSM 6, you will not only get a software package, but you will get a collaborator, an advisor and supporter of the growth and transformation of your service organization.
We can't wait to be your partner in challenging the future of service.
IFS has done it again! Access the 2020 Gartner Field Service Management Magic Quadrant report.
Do you have questions or comments?
We'd love to hear them so please leave us a message below.
Follow us on social media for the latest blog posts, industry and IFS news!
Photo by bruce mars on Unsplash