Live blog coverage from the IFS World Conference 2018 break-out session, "The rise of servitization and the industry's 'what's next'."
Nowhere in the world is safe from disruption, as out host city Atlanta found out during the civil war, when it was burnt to the ground. The morning keynote of our second day concentrated on the disruptions coming everyone's way, and how IFS and its partners can help your business ride that wave. 
---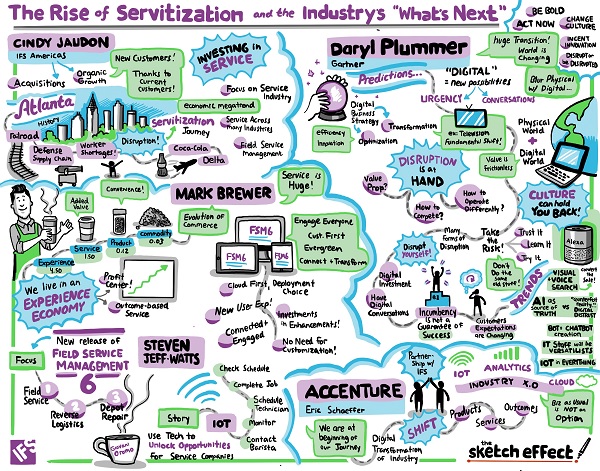 Cindy Jaudon, President, IFS Americas
IFS had a great 2017 in North America – twice as many companies decided to join the IFS family as in previous years. Getting new customers is important, but so is looking after our existing customers.
Atlanta got its start in the 1850s with a major infrastructure project: the railways. And IFS customers are still helping keep the railways running – and, indeed, the infrastructure that supports all of the US. Atlanta eventually became the rail hub of the south – and eventually a supply hub during the civil war. And, as a result, was burnt to the ground. It rebuilt – but it had a difficult time doing so. Eventually, Atlanta rode the way of industrialization to grow again.
Today, we're facing disruption caused by servitization. We're helping our customers with their journey to services by offering tools that help with:
Field service management
Depot repair
Reverse logistics
Following the war, Atlanta had an industry renaissance. Coca-Cola was founded here. But when we think about beverage industries, we tend to think about the drinks that go in the colas… IFS has more of a business relationship with Pepsi than Coke, helping the business in many parts of the world.
The aviation and defense industry has been affected by servitization. People want to buy maintenance, not just parts. But you need to be able to price contract properly, and you need to manage those contracts – and that's where IFS can help.
IFS's new focus on service is not us moving away from our manufacturing base. On the contrary, it's the best path to support manufacturing into the future. It's becoming commoditized, as there's always someone who will make things cheaper. But if you add service to the package, you have a more competitive offering.
---
Mark Brewer, Global Industry Director for Service Management
Why service? Service is eating the world. 70% of the world's economy is service. 20% of our customers' revenues are from service – but 60 percent of profit. We now live in an instant on, real-time planted, mediated through our phones.
For 100s of years, we have traded in commodities like coffee beans. Extracting a cup of coffee from coffee beans costs $0.03. But the price of a cup of coffee from instant? $0.12. Why do we pay that? Convenience.
In McDonald's, you now pay $1.50. Why? It's instant and convenient. People added service and gained value from that. Look at Starbucks: $4.50 for a coffee. That's going beyond paying for service to paying for experience – of the way it makes us feel.
We live in an experience economy.
We've seen the very same evolution in manufacturing. Once, profitability was seen in parts. Service contracts built relationships with customers – and profits. But best in class today is delivering outcomes. Philips no longer sells lightbulbs to Schipol airport – it sells light. People don't want products, they want outcomes. Some customers are getting 12x as much revenue from services as the product sale.
Tomra has reverse vending machines: they take your can for recycling. Kyocera is now a world leader not in printers, but in document services.
To support all this, IFS Field Service Management 6 is being released today. IFS FSM is the most complete, connected Field Service Management.
IFS Field Service Management 6
IFS FSM 6 allows you to manage every interaction you have with your product after it leaves the factory gate. We're adding three new products, based on the acquisition of mplsystems last year.
Voice self-service – an AI powered interactive telephony service
Digital self-service – a chatbot
Agent desktop
We're continuing to invest in workforce planning and optimization, too. Those that embrace service transformation will enjoy long-lasting and profitable relationships with their customers.
How do you become disruptors rather than victims in your market? One idea would be to do everything: for example a coffee company that handled everything from beans to espresso machines and charged customers per cup of coffee. You link the business model to the value delivered – but you no longer get lumpy revenue from selling products. You become an asset owner and you pick up risk because you pay penalties while your machines are out of order.
The classic "man in van" model comes with high cost. That man and van cost money to get on the road. The Internet of Things allows the machine itself to flag up a potential problem and, if needed — and only if needed, — summon a technician. This reduces the service call workload and reduces risks because the more you service a device, the higher probability of it breaking during service. FSM6 will allow this sort of connected service process when we launch, probably in Q4 of this year.
FSM6 has reimagined many of the designs and interaction patterns to make things as simple as possible. And we've done it in a way that makes the path from FSM 5.7 to 6 as smooth as possible. We're concentrating on the following areas in future updates:
Dealer warranty claims
The scheduling optimization engine
Continue mobile leadership – it's critical to FSM
Evergreen – our layer architecture – allows updates to be deployed on a seamless basis. But we want to make the technology stack better by removing customization. We can only do that by giving you the best configuration toolset so you can make FSM yours.
On mobile, now 90% of new deployments are configuration only. That's no lines of core code modified, and not a single line of custom code written. With FSM6 we're shooting with that for the rest of the tools, too.
We're in Alpha now, with a Beta in the summer, and RTM in Q4. The first early adopter is Eickhoff, a German manufacturer of mining equipment.
---
Eric Schaeffer, Accenture
We interviewed 2,500 executives over the world, and 75 percent thought that digital will transform their industry within five years – but only 17 percent had a strategy for it. We're all at the beginning of this journey. Digital will change how manufacturers build and sell their products – and even those products themselves. Those products will communicate and adapt to context.
We are entering the era of living products. The value is moving towards digitally-enabled services.
We're well into the service-based economy, with product/service hybrids. But this is just an intermediate step, as we move towards an outcomes-based economy. Imagine that you are running consumer goods company – and you run a series of trucks. You're a supply chain manager, and in the old days, you had to buy and ship types to your trucks. But now? Michelin will guarantee you a fleet with perfect types – and bill you per miles driven. In the depot? No cost. They'll guarantee a diesel saving of 7 percent – that saves you money. They have reinvented their business – from the tires to the outcome.
It's not industry 2.0, but x.o – as the waves of disruption keep coming. There is not one industry that will not be disrupted by digital. Those sectors that haven't felt it yet will – and soon.
This is where IFS and Accenture come into play. We have a long-standing partnership, focusing on specific industries, to drive both top line and bottom line value for our clients. We have four industrial IoT centers around the world, and you are welcome to visit them.
---
Daryl Plummer, Gartner Vice President
The pace of change is accelerating, and we're seeing the next wave of disruption happen before the last one is done. He was speaking to someone who had just moved her developers over to mobile – and he had to tell them to shift them to chatbots instead.
What is digital? Everyone has a different answer – and pretty much all of them are wrong. Digital is something you do, rather than something you are. Before digital technologies came along, there were certain things we couldn't do. But digital inherently blurs the lines between the physical and virtual worlds.
There's a sense of urgency: we need to be doing something about digital. Business-as-usual is not an option. But how can we generate new value out of the transformation? We actually have both transformation and optimization to deal with.
Most of us know about television. But it has been disrupted, changing it completely. You used to have to wait for your show and then you could record it and watch it later. Now we avoid watching it until you can binge-watch the whole series. Even the content creates have changed: Netflix, Amazon and so on are now in the picture.
Use innovation from disruption to transform yourself into something new. You need to give your people permission to fail – the faster you fail, the faster you get to the right answer.
Your digital teams need to start having conversations which are rooted in the digital and physical worlds. The physical items need also to be first class digital assets. The most exciting things happening now are those that involve connecting software to the sensors, to the edge and mesh networks out there.
There are new units of value: they may be disruption or influence. It's not just about money, but on how you shift the environment around your business:
What's our value proposition?
How will we compete?
How will we operate differently?
The concept that became Amazon Go stores actually originated 12 years ago. It took them 12 years to take the idea and make it fully realized. How do you compete if you work in point of sale? You figure out how you can use sensors in your business.
About a third of attendees have a smart speaker. Why not the rest? Some people say privacy. You have no privacy. It's dead. But Alexa only listens to your conversation when you say the trigger word, but you'll only know that when you try it. And maybe it is a security risk – but you'll only find that out by trying it.
We tend to look at consumer products and say "that's not enterprise-ready, it's a risk." And it is a risk. But you have no other option if you want a culture of innovation and disruption.
Apple's iPhone was an offensive disruption that killed many things, including cameras. Google's Android was a defensive disruption, to prevent Apple getting complete dominance.
You can be disrupted by your customers – as Twitter users did with the hashtag. And you can disrupt yourself, just as Apple disrupted its iPod business with the iPhone.
67% of organizations have too few large digital investments, according to strategists. Right now we have lots of disconnected dabbling – random acts of digital. We need to unify that. We need to have the digital conversation.
In essence, you need to achieve business scale through disruption. Amazon could take millions out of healthcare, and just by saying it was getting into that business. Don't be worried by self-driving cars. Be worried about the humans still on the roads.
Incumbency is not a guarantee of success. Heritage customers and systems can hold you back. Maybe they can't change the systems, because code compilers no longer exist, and the programs who write the language have all died.
Customers' expectations are changing. You used to have to go to a certain desk with a certain computer with a certain set of tasks available. Now, you can compute anywhere. Farmers are streaming their crops back to pest control companies. Your parents told you not to get into cars with strangers. And now we summon strangers from the internet to come pick us up.
Competition is coming from unexpected places.
Five predictions from Gartner:
Visual and voice search will increase digital commerce revenue by 30% for those who adopt it. AI means that machines can identify things in photos faster and more consistently the humans.
AI will be at the heart of our most trusted versions of the truth. What happens when AI fakes a video? Counterfeit reality – fake content – will outpace AI's ability to detect it. And that will ferment digital distrust. Could your data sources be corrupted to hurt you? Corporate espionage is not new. We can't protect everything. We've moved from prevention to detection and remediation.
By 2021 more than half of businesses will spend more per annum on chatbots than on traditional mobile app development. That requires whole new sets of skills and technologies to do – and that means developer shave to change. Bots have to understand people's intent – and even other humans are bad at that. Chatbots will eventually be the face of AI.
By 2021 40% if IT staff will be versatilists, holding multiple roles, most of which will be business related, rather than tech-related. IT people need more business skills, and they need to understand the consumerization of tech.
By 2020 IoT will be in 95% of electronics for new product designs. That means sensors in your cars, kitchens… toilets? It's going to be in everything, so we need to think about securing it.
You have to act now. The urgency of digital is increasing, not decreasing. Be bold. Change your culture. Incentivize people to do the innovative.
Disrupt — or be disrupted.
Head over to ifs.com to learn more.
Do you have questions or comments?
We'd love to hear them so please leave us a message below.
Follow us on social media for the latest blog posts, industry and IFS news!
Image credit: This digital graphic was drawn and recorded live during the third keynote session of IFS World Conference 2018 by the visual communication firm, The Sketch Effect. The digital graphic recording will be available to watch soon.