Live blog coverage from the IFS World Conference 2018 keynote session number two, "Focus on customer success."
Microsoft — Paul Maher, General Manager, industry experiences
Microsoft's industry experiences team sits within the Azure group, helping customers moving to the cloud. Digital transformation is driving us all to innovate in people, processes and tooling. Cloud is in the heart of that digital transformation.
For 20 years or so, Microsoft has had a strong relationship with IFS. Most recently, we've been working together to leverage the strength of the Azure Cloud to make digital transformation happen. Digital disruption has killed companies. The survivors are responding by:
Engaging customers
Empowering employees
Optimizing processes
Creating products
IFS and Microsoft are both focusing on business outcomes, helping our joint customers achieve much more. Azure is a first-class platform for allowing customers to achieve their business transformation needs. It's recognized as a leader in security — with more compliance certifications than any other globally. Its global reach lets you get your cloud workload closer to your customers.
Oh, and they're offering up to 30 percent off the first three months of Azure Managed Hosting, up until June 2018.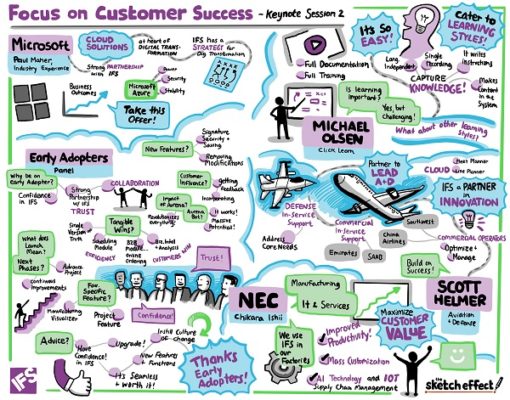 Amy Eager and the IFS Applications 10 early adopters
How have the IFS Applications 10 early adopters found the process? And what do they like best? Amy Eager gave them a chance to be honest:
Jay Gnuse, Chief: Chief was one of the first users of IFS Enterprise Explorer. We had the confidence to be an early adopter of IFS Applications 10 based on that. With the support teams in different parts of the world, I'd wake up with solutions in my inbox. It felt like support was just working for us.
Doug Hanse, Valmont: In a partnership like this, you have to trust each other not to hurt each other. If only one side wins, neither does.
Mark Large, Volac: Without that trust, there's no way we would have become an early adopter.
What have been the particular advantages of the new version of IFS Applications?
Simon Vaughan, Portsmouth Aviation: Cryptographic document signing, created with IFS, has been great for our supply chain. And it has saved us money, too.
ML: I watch IFS Aurena being announced this morning and thought, "Wow, that looks great!" – and then remembered I was already using it. It's made life so much more easy, with things like booking holidays, health and safety, and so on. We've also been using Aurena bot – and it does work. I accidentally booked holiday for today, when showing it to someone last night! It's great. You'll soon just be asking how sales are doing, rather than logging into the client.
Jim Stevens, Hexpool: We've never had a solution to do production planning in our ERP before. Having that solution is really going to help with efficiency. And we're really excited about the IFS Aurena Business-to-Business module and customer ordering online through it. We're looking at cost savings at the customer service side with it – and we're linking with Microsoft BI.
SV: The win is a single version of the truth. People often had to go into different screens to do everything – and they often forget things in that process. Lobbies have made things much easier, giving a single view on what needs to be done. We've done some data cleansing off the back of that.
What's next for the early adopters?
ML: We've got lots to do: the business to business portal for suppliers and customers. We're building a new factory, and we'll just use IFS for it.
SV: I'd see to a greater adoption of the project. I've got a utopian view of it all being run in IFS, with everything in one system. It could make us more profitable.
JG: The manufacturing visualizer allows us to see what's going on and make bigger, smarter decisions when a customer needs something urgently.
And what would they say to fellow customers considering the upgrade?
JG: You can be confident with an upgrade to IFS Applications 10. We upgraded from IFS Applications 8, we changed our server and lots of other stuff – and we did it in four months. The upgrade to IFS Applications 8 took two months longer than that.
JS: Anyone upgrading will be really happy. There's something for everyone.
DH: It could be just what you're looking for to move ahead.
SV: Get everyone involved in the process and use it to drive transformation.
ML: Get everyone aboard and just do it.
Customer profile: NEC – Chikara Ishii
Chikara Ishii has been working for NEC for 30 years – he likes to concentrate; one company, one wife, one daughter. NEC produces many types of product from small chipsets to big satellite systems. They've been using IFS in their factories. They've been improving productivity for many years.
Using IFS they've been able to offer customers mass customization of computer components with the shortest lead time in the industry – four days!
They've been using AI for decades and are focusing on:
Visualization
Analysis
Prescription
They have the best face recognition technology in the world, thanks to that. But they're also using it to optimize supply chain management, for example, by predicting equipment failure. Object fingerprinting allows complete supply chain tracking. In some places, they've cut production times by 20%, in others inspection time by 60% in the NEC DX factory.
Scott Helmer, Senior Vice President, Aviation & Defense at IFS
IFS has a rich history in aviation and defense and has been number one for a decade. We have a new 300-strong business unit, focused exclusively on A&D. This proven portfolio of products is targeted at managing capital intensive mobile assets.
For example, aircraft operators need to balance operational efficiency and customer satisfaction, without sacrificing safety. Our tools can maximize aircraft yields within those constraints, to meet those challenges. Airframe, engine teardown and repair – we can support all of it. IFS clients confidently manage predictability, meaning they can bid and win business, knowing they'll make money and exceed customer expectations.
The cost of maintaining defense assets through their service life is often three or four times their purchase price. Our tools help manage and reduce that, by enhancing operation agility and reducing out of service time.
IFS Labs makes sure we are bringing new technologies forwards with a specific A&D focus, and because of that, we were the first to deliver paperless and mobility in maintenance. We'll stay at the forefront of that, benefiting our customers.
Today they're launching two new SaaS solutions for commercial operators:
IFS Maintenix Fleet Planner – long-term planning for maintenance planning
IFS Maintenix Line Planner – long-term planning for maintenance lane planning
These are just the first in a new line of products for A&D asset management solutions.
Michael Olsen, CTO and Founder of ClickLearn
Is leaning important to you? Most companies would say "yes". But do you enjoy creating the documents for it? No.
Most companies end up just creating Word documents, but not many people enjoy learning from that. Videos are time-consuming and you have to create them in multiple languages if you're a global company.
ClickLearn is a solution for capturing the knowledge of the process you have within your system, be it IFS Applications 7.5 to 10. You can record the set of actions needed to deliver a task. ClickLearn learns those action and saves them into a recording. It then writes instructions from those recordings. It also creates a video, narrated by a digital voice. You don't need video editing skills. You just record your actions.
Once you start combining these recordings into a learning portal, you have everything you need to provide the user documentation you want for your workforce.
Image credit: This digital graphic was drawn and recorded live during the second keynote session of IFS World Conference 2018 by the visual communication firm, The Sketch Effect. The digital graphic recording will be available to watch soon.