IFS is #ForTheChallengers. At IFS World Conference 2019—where the theme was for the challengers—artificial intelligence, augmented reality, machine learning and challenger champions were on full display.
Attendees at IFS World Conference 2019 October 7-10 in Boston were blown away by incredible presentations and workshops from IFS employees, partners, customers and guest speakers. Whether you attended the event in-person or followed along online, there were takeaways for everyone. In case you missed it, here are highlights from the event.
IFS Partner Summit, Awards and CSR
IFS World Conference began with the IFS Partner Summit on Monday, October 7. Attendees heard from IFS executives and partners throughout the summit. The event concluded with the Partner of the Year Awards Dinner, followed by the IFS Foundation Charity Auction, supporting The IFS Foundation. In total, more than $60,000 was raised!
IFS takes big steps on CSR journey https://t.co/lFtUckHP1i via @Enterprise Times

— IFS (@ifs) October 15, 2019
Women in Leadership
There were more women in attendance than ever before at IFS World Conference! This year's conference began with a highly attended women in leadership breakfast. Serving as a great networking opportunity, attendees heard from women from all walks of life and how they have succeeded in the workplace. Read more about the engaging event:
For the Challengers
On Tuesday IFS CEO, Darren Roos, kicked off IFS World Conference with his exceptional keynote about how we can all do smarter, better business. He also looked ahead to hot, new challenges and opportunities in the industry. During the keynote, Roos also explained how the theme, "for the challengers" was born.
COMPUTER WEEKLY

IFS World 2019: keynote notes, quotes & anecdotes https://t.co/Us09Z59r7d via @computerweekly @IFS @darrenroos #IFSWoCo19 #ForTheChallengers pic.twitter.com/GIPmirj1Ny

— Adrían Bridgwater (@ABridgwater) October 8, 2019
On the main stage, Roos announced three new IFS support offerings. They are designed to expedite support queries, how-to questions and help customers ensure they derive more value from their software. Learn more about the offerings below.
IFS Community, which brings together IFS customers, partners, and employees on a single peer-to-peer support platform to share knowledge and solve problems.
IFS Select, a holistic services framework for customers that place IFS at the center of their business strategy.
IFS Success, which provides a services framework that allows customers to choose the outcome-based service components that they need relevant to their business priorities
Here's what people are saying about the announcement: 
IFS success services tackle challenge of software 'outcomes'
IFS Debuts Support Options Throughout Customers' Entire Software Lifecycle
Leverage the Power of the Community: You Too Can Be an IFS Hero
IFS and Astea Announcement
Also on Tuesday morning, IFS announced the definitive agreement to acquire Astea International to strengthen global leadership in field service management business. This exciting news was announced by Roos during his keynote presentation.
Here's what people are saying about the announcement: 
IFS World 2019 – Roos makes challenger pitch as Astea buy extends FSM reach
.@IFS acquires @AsteaService in a bid for FSM market consolidation. #IFSWorldhttps://t.co/AwulzupkqQ

— SearchERP (@search_ERP) October 11, 2019
Big news this morning! #IFS acquires Astea!

— Bill Pollock (@SFGOnService) October 8, 2019
IFS is now the leader in field service management.https://t.co/nkqikTeyvm@dvellante @pgillin @theCUBE #IFSWoCo19 #theCUBE #IFS #EnterpriseTech #ERP #ForTheChallengers #Astea pic.twitter.com/Js5Ucs8AJQ

— theCUBE365 (@theCUBE365) October 11, 2019
Darren Roos, @IFS CEO at #IFSWoCo19 announces a definitive agreement to acquire Astea #ServiceManagement. All about industry and solution focus

— Cindy Jutras (@ERP_cindyjutras) October 8, 2019
New UX and APIs to power open and enabled enterprise application suite
In the afternoon, IFS Chief Product Officer, Christian Pedersen, took the stage to discuss the path to enterprise solutions that are increasingly intelligent and autonomous, yet pragmatic and focused. This included the announcement that IFS Aurena user experience is now available across the full breadth of IFS Applications, for all customers.
Also announced, IFS joins OpenAPI initiative with 15,000+ OData-based restful APIs across portfolio and product and industry updates, including support for cloud-based International Traffic in Arms (ITAR) compliance initiatives. Watch the full keynote.
Welcome IFS to the OpenAPI Initiative Community!@ifshttps://t.co/CRI3eSYWhZ

— OpenAPI Spec (@OpenApiSpec) October 8, 2019
Here's what people are saying about the announcement: 
IFS delivers new user experience and APIs to power its open and enabled enterprise application suite
IFS drives 'open' into app suite, delivers new native API model
Next-Gen UX: Aurena Now Available Across Full IFS Product Suite
Getting practical with intelligent and autonomous solutions
Director of IFS Labs, Bas de Vos and Vice President of AI and RPA, Bob de Caux discussed the evolved architecture for service management, enterprise resource management (ERP) and enterprise asset management (EAM) for rapid innovation. De Vos de Caux also previewed technologies to power augmented/mixed reality-powered remote assistance, digital twins and predictive maintenance.
Lots of #ML #AI remote support, and other advanced capabilities coming from #IFS in 2020 #IFSWoCo19

— Brian Sommer (@BrianSSommer) October 9, 2019
IFS demonstrated its outcome-centric approach by revealing its vision for how new technologies will be brought into its core application architecture and delivered to customers in context of their unique work and industry needs. The evolved industry-focused architecture is scheduled for availability in 2020 and will be the new home to IFS's entire portfolio of products across manufacturing, project management and service solutions.
Here's what people are saying about the announcement: 
IFS lays out blueprint for new era of intelligent and autonomous enterprise solutions
IFS World 2019 – ERP-controlled shop floor robots save $1.5m at packaging plant
RPA basics: What it is, benefits, downsides, use cases
Challenger of the Year Award Winners
IFS executives presented the inaugural Challenger of the Year Awards onstage during Main Hall Session on Wednesday to five customers that embrace innovation and derive significant business value from IFS solutions. They shared their considerable achievements using IFS solutions. The winners are:
Gebr. Eickhoff Maschinenfabrik U. Eisengiesserei GMBH 
Babcock International PLC
Restek Corporation 
Pacific Pest Control
Morris Jenkins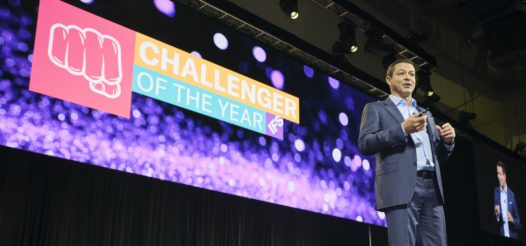 Celebrity Guests
On Tuesday afternoon, we heard from skateboarding legend, Tony Hawk, discuss his challenger journey to becoming the successful skateboarder and entrepreneur that he is today. "It wasn't that I was so cavalier that I said, 'I don't care what you guys say,' it was more that I didn't have a choice," said Hawk as he described changing the style of skating and forging ahead in the sport.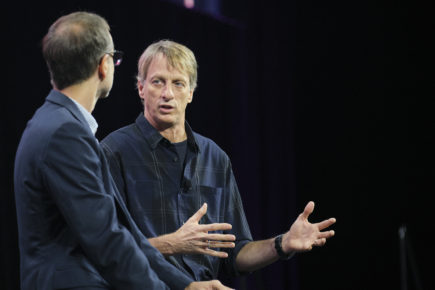 Later, IFS Chief Customer Officer Michael Ouissi, joined the fittest woman on earth, Tia-Clair Toomey on stage. She discussed the hard work and dedication necessary to be a three-time Crossfit Games Champion.
"I highly recommend having one goal you really want to achieve and setting little accomplishment goals along the way to keep yourself on the straight and narrow and only focus on what you can control," said Toomey. "Don't think about what someone else is doing, what another company is doing because while you're putting energy on them, they're working hard to get better than you and you don't want to worry about that. You want to worry about yourself and keep progressing forward."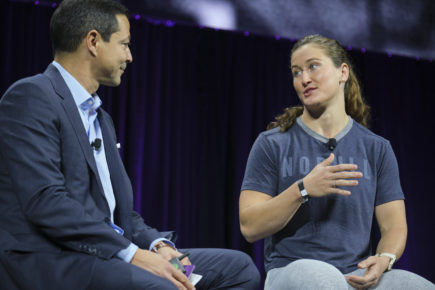 Singer-songwriter and Billboard #3 artist, Lewis Capaldi, headlined the IFS customer appreciation night. Attendees danced the night away to songs like the chart-topping single, "Somone You Loved".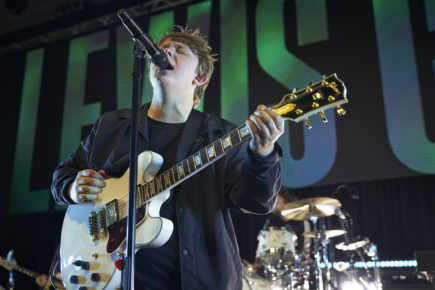 Join the conversation
For more in-depth coverage of IFS World Conference 2019, visit the Day 1 and Day 2 recap blogs. If you missed this year's events, tune into the session replays online. To see more photos from the event, view the photo album.
As always, stay connected @IFS on Twitter and visit #IFSWoCo19 to share your favorite moments.
Do you have questions or comments?
We'd love to hear them so please leave us a message below.
Follow us on social media for the latest blog posts, industry and IFS news!