"AI" is one of the most overused technology buzzwords of the last 2-3 years.  But the term is not going anywhere, so I'd like to make a plea on behalf of the weary: when talking about AI, don't stop the conversation at 'shiny new technology'.  Instead, continue to shift the AI conversation: why consider investing AI in the first place? 
Your C-Suite, your Board, your shareholders are not interested in merely buying a shiny new technology.  They want better ways to solve business challenges, or to open doors for more revenue opportunities.
And, speaking of the search for better ways, this week I'm at Gartner Symposium in Orlando U.S. to learn about how industry leaders are finding better ways to address business needs.  At the conference, Gartner strives to make sense of all the techno-hype for its roughly 10,000 attendees. This year there is no shortage of "AI" being tossed around, though I would label Gartner's approach "AI on a mission" (…a mission to educate attendees how to identify business challenges to which AI tech can be applied).
In my session at #SYM earlier today, I spoke about 3 real-world use cases that illustrate the idea of starting with small and manageable projects.
I kicked off the session with a Gartner framework, which is explained further, "AI is best understood as a collection of technologies, such as machine learning and natural-language processing that augment or exceed human cognitive abilities… Leading AI application areas include: bots, chatbots and virtual assistants, conversational AI platforms, analytics and predictive analytic models, smart objects, sensors and environments."[1] I highlighted 3 customer cases as Gartner defines the categories: IoT Perception, Process Automation and Conversational Interaction.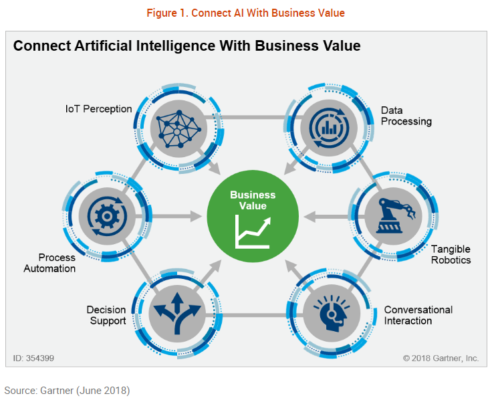 [2]
Let's take a closer look at each use case.
Anticimex: Smarter Electronic Traps
Every time I hear the latest on Anticimex's IoT implementation, I am reminded of the many things we take for granted that make the world go 'round, things like getting rid of unwanted critters.  Pest control is a necessity and Anticimex is the world's 5th largest pest control company.
The company identified a business need to maximize the time of their technicians, who would often go onsite to investigate the capacity of their electronic traps or the status of the battery – only to find that a trip wasn't always necessary.  So, a couple of years ago, Anticimex took a new approach to solve this problem: they deployed the IFS IoT Business Connector across their smart traps, connecting the data coming from the traps, through analytics in the cloud on Microsoft Azure, to actions in IFS Applications.
This sounds like a small change, to 'light up' rodent traps, but consider this: not only was technician availability optimized, but there was known environmental impact (less road travel) and, in one country, revenue increased by a whopping 100%.  NPS scores spiked as customer satisfaction rose.
Cubic: Customer Care Triage
Cubic is a leading provider of integrated systems & services for transportation and traffic management, providing ticketing and fare collection equipment and services to the mass transit industry.  If you've ever purchased a ticket for a train or a bus, you can imagine the kind of customer service needs that could arise when those machines don't do what they're supposed to do.
Cubic needed to reduce machine downtime and maximize in-field technicians' time.  Understanding the business challenge, they invested in a machine learning technology that would optimize repair schedules and increase uptime of ticketing machines.  They deployed IFS Planning & Scheduling Optimization with a built-in dynamic scheduling engine.  With this solution, Cubic employees were able to better handle frequently asked questions, triage customer requests, and proactively monitor for machine downtime.  Happy customers, happy employees.
Across the project, machine uptime improved by 20%, there was a 75% reduction in field resource controllers, and the need for manual data entry was eliminated.
Conversational AI
In the final and 3rd example I want to share, I'll highlight an IFS Customer Engagement customer who runs a consumer review publication.  Their contact center was burdened with high volumes of email traffic and they needed to find a way to improve both efficiencies and customer experience.  The company needed to do things like relieve contact center agents of high volume customer service requests, quickly triage the email queue to deliver intelligent processing and routing of requests, and efficiently identify VIP customers for human assistance.
Cubic applied text & voice analytics to categorize text-based enquiries and 'decide' the most appropriate response.  Customer enquiries would either be intelligently routed to the best agent, or to a chatbot (they found that 60% of interactions could be automated).
As a result, the publication saw a grand 35% reduction in volume of emails for agent processing and response time was reduced from hours to seconds.
In closing…why do you need AI? 
To be clear, you need more agile ways to solve your business challenges, because if you're not looking for better ways forward, your competitors are.
What do you do next?  Start small.  Think of Anticimex's rodent traps, or Cubic's service to ticketing machines: fixing one cog in a large wheel can absolutely make an impact on your bottom line, on your customer satisfaction & loyalty, on your brand status.  I'd also add that you shouldn't expect results immediately; it can sometimes take months.  So set expectations, plan accordingly, and celebrate what you learn from your mistakes just as much as you celebrate your victories!
Learn more about AI in enterprise solutions at blogs.ifs.com.
---
Do you have questions or comments?
We'd love to hear them so please leave us a message below.
Follow us on social media for the latest blog posts, industry and IFS news!
LinkedIn | Twitter | Facebook | Google+
Image credit: Photographer: Tom Merton
[1] Source: Gartner, "A Guide to AI in Postmodern ERP Strategies", Denise Ganley, Christopher Iervolino, June 2018, ID G00354399
[2] Ibid
---