Let's face it, in 2017 and beyond, if you are relying on whiteboards, spreadsheets and hand-written notes to drive your service operations, then you are going to have an uphill battle on your hands.
In my line of work, I regularly speak with service organisations across a range of industries as we aim to learn more about the challenges they experience at the face of their operation.
Whether they are providing service in the field, on capital assets, at a customer's office or anywhere else, I find the common threads that transcend their specific market are, in some form or another, attributed to rising competition.
When competitive forces increase, so does the need for a business to harness the right tools. The Australian Government's Australian Industry Report 20151, highlights that as our economy is in transition, our future economic success will require an approach that facilitates innovation and entrepreneurship.
The old methods of service simply don't cut it anymore. The best organisations now anticipate service needs before they manifest as problems, taking a proactive approach to the issue. Gartner details four objectives that service management applications should meet to qualify for inclusion in its "Magic Quadrant" for Field Service Management:
Receipt of requests for a field service technician over the internet, over the telephone or from an intelligent device
Scheduling and assigning a service technician (long, midrange, weekly and intraday optimisation of the technician, factoring in assets and improved service-level agreement [SLA] compliance)
Complete mobilisation of that technician to perform end-to-end service tasks, including the ability to look up inventory status in real time or cached from a mobile device
Field service functionality that supports a continuum of field service models, from reactive to preventive to predictive to reliability-centred maintenance
Gartner also notes, however, that an end-to-end field service management (FSM) solution may contain the following:
Route optimisation
Entitlements and contract management
Product and pricing configuration
Case-based reasoning/knowledge management
Reporting and service analytics
Bill/invoice preparation
Field parts, tools and material/parts management (essentially a field supply chain management [SCM] system)
Intelligent device management and fleet management
Depot repair
Software for mobile application support that includes a user experience that maps to mobile workflow
A service integration framework or platform
With the right enterprise software that is integrated with, or includes, FSM software, Australian service companies will place themselves in a strong position to enjoy future success.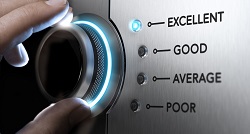 They can improve their customer satisfaction, efficiently schedule service and have the information they need to manage service costs. Identifying some of the key benefits that your business can obtain from selecting the right enterprise service management (ESM) software, is likely to help highlight the necessity of change.
REDUCED OPERATIONAL COSTS
In a business that deals with complexity and the need to make quick decisions, leveraging technology to drive business efficiency and cost reduction is essential. One key way of achieving cost reduction is through reducing downtime and effective scheduling. Mobile functionality allows your technicians in the field to be much more productive. For example, through standardisation of processes, work order completion away from their base and easy access to data, Pindan Asset Management has increased their daily work order average.
OPTIMISE RESOURCE SCHEDULING
Software with sophisticated scheduling capabilities can use known information about your technician's skills, knowledge, qualifications, availability, location and a number of other parameters to coordinate scheduling tasks, which meet your pre-defined business rules.
Scheduling in this manner can help reduce the number of dispatchers required, improve performance against SLAs and reduce travel distance and time. All of which help to reduce cost.
OBTAIN VISIBILITY INTO LONG TERM SERVICE MANAGEMENT PLANNING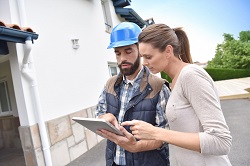 Effective business decision-making is a cornerstone of success. More and more businesses are recognising the need to use contextualised data to drive effective planning as opposed to relying on instinct and anecdotal evidence alone.
When you have easy access to accurate and timely data, which is contextualised for your requirement and is intuitively displayed, you can begin to conduct long-term planning with confidence in its relevance.
Everything from resource availability to procurement requirements, project status and performance against SLAs plays a part in your planning, which is why you want a system that allows you to see valuable information on these elements and more.

OPTIMISE CONTRACTS, SLA PERFORMANCE & GENERAL LEVEL AGREEMENT TIMEFRAMES
As it has been touched on in earlier sections in this blog, effective service management software at many levels plays an active role in improving performance against agreed contracted requirements.
Through an ability to load contracted requirements into your service management software, it plays an active role in helping you meet and exceed these requirements.
With scheduling prioritisation, notifications and delivery of information, which is targeted on reaching the highest standards, the right software system will optimise your resources in a manner you are unlikely to be able to replicate manually.
While meeting your contracted requirements is important from a compliance perspective, reaching and exceeding customer expectations should also be a priority in creating customer lifetime value.
INCREASED CUSTOMER SATISFACTION
Whether in a B2C or B2B environment, buyer behaviour has changed and as businesses, we must all recognise the importance of delivering a service worthy of loyalty and referrals.
Aside from having a culture that promotes a customer first approach, without the right insight, driven by the right technology platforms, it becomes difficult to deliver an experience that meets growing consumer expectations.
As highlighted in this Business Insider Australia article, Warren Buffet believes strongly in the notion of going beyond customer satisfaction and focusing on customer delight. In competitive markets, this approach is what propels many great Australian service businesses to stay leaders in their industry.
If your business does not have the right service management software for the future, then it is likely to fall short of reaching its potential in this area.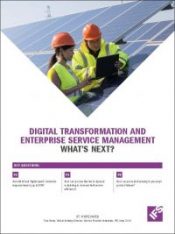 The reality is that the benefits of choosing the right service management system are far-reaching because the right software will be integrated across broad business functions.
You must, therefore, ask yourself, "Does our business have the right tools to take us forward?"
For more information on this topic, download the white paper: How digital transformation is reshaping the enterprise service industry.

1 Source: Licensed from the Commonwealth of Australia under a Creative Commons Attribution 3.0 Australia Licence.
---
Do you have questions or comments about service management software?
We'd love to hear them so please leave us a message below.
Follow us on social media for the latest blog posts, industry and IFS news!