IFS Unleashed 2024 promises to be an extraordinary event that goes beyond the boundaries of imagination and technology. With AI at the forefront of all technology innovation, we invite you to experience and explore what's possible when embracing AI's transformative power on your organization.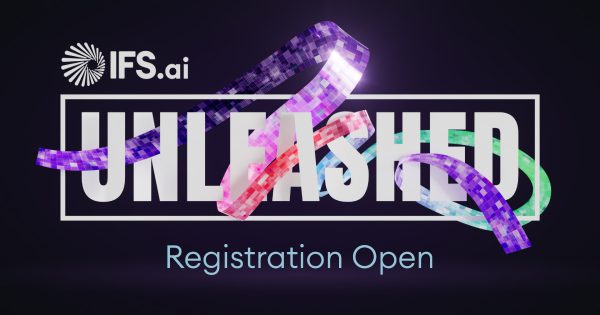 A lot has changed since Unleashed 2022. AI has taken the world by storm. Not only in terms of driving innovation but also in how it is fueling productivity and transforming the way we work. Amid the persistent challenges posed by inflation, supply chain disruption and general economic dynamics – we have seen how cloud, AI, RPA, and IOT technology are becoming a staple for our customers throughout their technology investments. 
AI capabilities have been part of our product portfolio for many years, it's an exciting time for IFS to put the spotlight shine on AI and open the door that in turn, will drive our customers' innovation and transformation. AI is here to stay, and we are committed to helping our customers realize value and deliver the best when they need it most. Putting customers first is deeply rooted in our culture across our entire business, as it is not only crucial to our success but also for our customers and their business. 
With the next IFS Unleashed promising to be the most impressive gathering and showcase from across the IFS ecosystem, join us in Orlando to unleash your organization's potential with IFS and IFS.ai.  
What IS IFS Unleashed? 
IFS Unleased is the place that unites and celebrates innovation and success from the global IFS ecosystem.   
We will showcase the latest capabilities and how IFS.ai will supercharge your people processes and asset productivity and inspire you with real customer examples from pioneers who have driven success with AI and IFS for their organization. Prepare yourself for thought-provoking thinking, inspiration, and practical expertise. This is your opportunity to unleash your organization's full potential.  
Why attend 'Unleashed 2024'? 
At IFS Unleashed 2024, we promise to be very pragmatic, specific, and forward-thinking on the role technology plays in realizing accelerating time-to-value. Our sessions will be evidence-based and provide you with tangible applications to leverage AI for your business.  
So don't wait! Understand AI like never before, as AI-driven innovation continues to redefine our perception of the world and how it can transform organizations. 
Immerse yourself in demonstrations, expert sessions, and experience unparalleled networking opportunities by joining world-class training to transform your organization and career. Join us at Unleashed for an event that will inspire you to innovate and take you on a journey towards limitless value creation. 
When and where can I join IFS Unleashed? 
IFS Unleashed will take place in Orlando, FL, USA on October 14-18, 2024.   
And what better place than Orlando? Easy to get to, easy to navigate around and easy to enjoy.  
Check out IFSunleashed.com to see what we have in store, find out more about who you'll meet, and ensure you register early to get the best prices.  
We can't wait to see you in Orlando.