Productivity in the UK has slowed and the future is uncertain for many businesses in the manufacturing sector. From attracting and retaining talent to managing processes, suppliers, and logistics: the uncertainty caused by Brexit has left a lot of questions but a scarcity of answers.
But the UK doesn't have to lag behind Europe in terms of productivity. The momentum behind digital transformation is there, the technology is there, and the drive to boost manufacturing is most definitely there.
What's missing?
For UK businesses, it's education, education, education. While many have invested in ERP technologies to pursue digitalization goals, a large proportion (around half, by my estimation) lack the knowledge needed to deploy and use these tools effectively. And we can't just blame businesses; the IT sector has also played a part. I've heard countless stories of solutions being oversold and deployments made overly-complex. As a result, British businesses are under-delivering and unable to take full advantage of what ERP solutions can offer.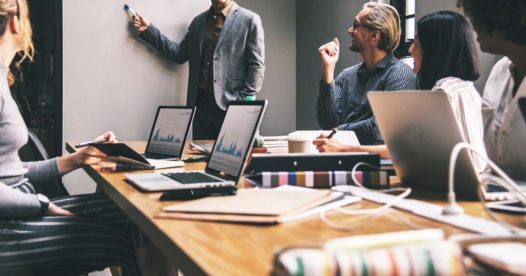 What's the problem?
Implementing a digitalization strategy used to be a crucial move for companies wanting to get ahead. Today, it's essential for simply staying on-par with the competition – something which has driven the adoption of ERP solutions. Automation, real-time data visibility, accurate forecasting, effective process management and productivity gains are all up for grabs.
However, buying the technology on its own isn't enough – businesses also need to buy into new ways of working. We've seen countless examples of organizations buying the right kind of ERP technology for their business, but then trying to make it fit around their existing processes, as opposed to adapting and updating processes in line with the product.
It's not just like trying to fit a square peg in a round hole. It's more like buying a round peg for a round hole and then making it into a square. No wonder these solutions aren't delivering value for business owners.
Mindset of simplification
ERP is no longer a 'nice to have' but a 'must-have' for businesses. The UK is approaching industry 4.0, and the focus in our manufacturing sector is evolving from assets and outcomes to the servitisation of processes. The country has the expertise (just look at our engine manufacturing and aerospace markets for instance), and its enterprises have mature technology with multiple capabilities at their disposal.
It doesn't need to be any more complex than that. At IFS, we've long advocated a mindset of simplification. We cut out the crap and talk in a language that our customers understand – and a dialect that is 'regionalized' for every sector in which we operate. We say what we do, and what we do is deliver value for companies.
In a manufacturing market characterized by a lack of knowledge around Brexit, adding value means delivering the right technology and the right clarity of information. This enables organizations to make the most of their tech investments, get the most out of their talent, and create the best possible future for UK productivity.
Do you have questions or comments?
We'd love to hear them so please leave us a message below.
Follow us on social media for the latest blog posts, industry and IFS news!
Photo Credit: Fanchy Marin