In these turbulent times who can really tell if the oil price recovery can be sustained, with sanctions, on-going trade wars, natural disasters and confusion around government policy concerning the off-shore industry's long-term viability? What we do know is that companies operating in this sector today need to be ever more efficient and aware of their costs and revenue opportunities, and ensure their Asset Management software is agile, flexible and powerful enough to cope.
The IFS team attended ONS 2018 this summer in Stavanger—which is now back to its most populous best. There were over nine pavilions set-up this time, with almost 70000 attendees from over 98 countries. What was even more encouraging was the number of participants at the ONS Young session, with nearly 4000 young people willing and enthusiastic about learning how they can become the future voice and new 'Game Changers' for the energy industry. The organizers are hailing this a major success. As the event President and CEO Leif Johan Sevland stated, the "ambition with ONS 2018 was to be an arena for discussions on energy, environmental issues, security and technology, and to facilitate collaboration across industries and academic disciplines. With that, I think we have succeeded and I hope we are one step closer in finding more sustainable solutions for the future".
Innovation, digital twins and mixed reality showcase
The event was a great opportunity to showcase our unique solution for O&G and demonstrate some of the latest innovations to come from IFS Labs.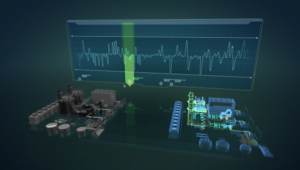 We showed how our IoT solution integrates with mixed reality capabilities from wearable devices such as the Microsoft Hololens. In this scenario, the headset identifies each asset and back office data can be used to display a digital twin of the asset.
All of the relevant asset information is displayed from our asset management solution including maintenance history, performance, documentation and repair schemes—whatever detail is required can be configured. This digital twin could even be used to playback what happened to the asset prior to a failure.
The beauty of the headset is that the information is presented, but the engineer is still able to carry-out the maintenance task unhindered. Earlier this year we released our latest enterprise version IFS Applications 10 and demonstrated the new interface and features such as the Aurena Bot—you can find out more in this blog.  At IFS, our ambition is to continually make it easier for engineers and technicians to interface with the work order when completing tasks as this can massively improve data quality.
What's next in energy and utilities?
With Equinor (formally known as Statoil) announcing it is looking to hire 10,000 more people in the next 10 years, the oil and gas industry remains buoyant. Equinor also claim that digitization in the industry has created as many jobs as have been lost, but the reality is the new jobs are likely to be very different from the old ones.
To attract new young talent into the industry, modern business solutions are going to be required. When we released IFS Applications 10, our guiding principles included ensuring we launched a product with a great new user experience. But don't just take my word for it, check it out for yourself by downloading this brochure or watching this video.
If you want to come and take a look at these solutions for yourself, the IFS team is attending European Utility Week in Austria in a couple of weeks and this is another fantastic opportunity to see the future of field service and customer engagement for utilities. Our booth is located in Hall B, Stand B.m8 – it would be best to schedule a meeting at our stand if you want to speak with us, to do so please email me at colin.beaney@ifsworld.com
For FREE visitor registration for @EUW_live follow this link and ensure you are able to find out what's next in EAM as well as our best in class FSM offer.
---
Do you have questions or comments?
We'd love to hear them so please leave us a message below.
Follow us on social media for the latest blog posts, industry and IFS news!