Live blog coverage from the IFS World Conference 2018 keynote session, "Accelerating growth in the long-term."
Our final keynote of this year's conference draws together the three's of the conference, preparing you for what's next: growth, new sectors of the market and new business models. And, our new CEO gives more insight into the future of IFS.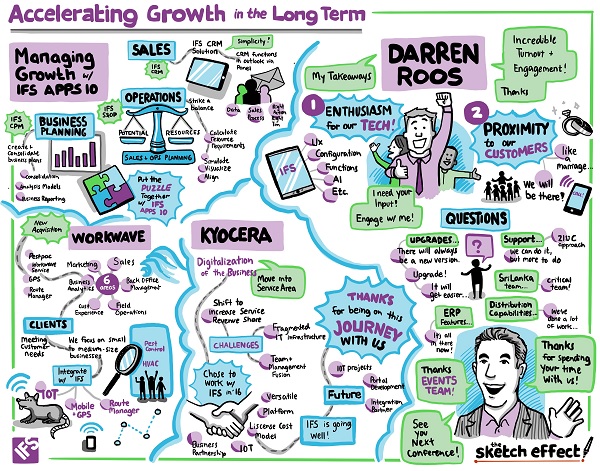 Managing growth with IFS
Business software can be a crucial part of your business development processes. In this session, we're going to concentrate on some of the functionality in IFS Applications 10 that can help you manage growth.
1. IFS Customer Relationship Management
The watchword for IFS Customer Relationship Management is simplicity. Many sales task happen in Outlook and many people are happier working there, but you want the information back in the CRM. So we have a CRM panel for Outlook on desktop, Office 365 and on mobile and tablets. The panel shows the details of the prospect you're talking to and a history of your interactions with them. It copies your new e-mail into the CRM when you send the message.
It's easy to switch from Outlook to IFS Aurena and create opportunities in there, starting from the initial contact in Outlook.
2. IFS Sales & Operations Planning
There's a balancing act between market potential and our resources. The business environment has made it harder to keep these two in balance. The IFS planning system allows you to easily visualize and calculate your resource requirements based on your projections and operations planning.
The core advantage of the solution is visualizing different solutions until you find one that creates the best balance for your business.
3. IFS Business Planning
This product gives you the ability to create and consolidate a business plan across a group of businesses. And it links with Excel via Business Reporter, which people in the financial reporting world love. It links with IFS Applications – and can feed into the Corporate Performance Management tool.
---
WorkWave
WorkWave is a new IFS acquisition based in New Jersey. There are five offerings, targeted at SMEs.
Pestpac – for pest control companies
WorkWave Service – garden and and other field service businesses
WorkWave GPS – real time GPS tracking
WorkWave Route Manager – route planning and optimization software
ServMan – commercial and residential ERP software
We help small businesses with their marketing work, from websites to Google Adwords. We have both a small internal web agency and some SaaS offerings that support that. We also have a solution to help people with their online reputation.
The core piece is the CRM backend, though, along with invoicing and accounts receivable. Field visibility is vital for small companies – they really need to know where their staff is. The can manage the relationship with the field client via their mobile, including capturing video and photos.
And finally, there's business analysis against targets and KPIs.
We're a SaaS operation, so we can scale up easily, and add servers as needed. And we've got to be easy to use because these are small businesses without the time for big training and implementation projects.
In-app analytics allow monitoring of tool use and allow us to understand which customers might need assistance – and which tools need work. APIs allow connection with other services.
How does WorkWave fit with IFS? It's a nice adjunct. IFS handles the bigger end and WorkWave the smaller businesses that IFS doesn't serve currently.
---
Vincent Martin, General Manager, Customer Services & Support Division, Kyocera
Kyocera is a €12bn turnover Japanese business, manufacturing a huge range of products. It was founded in 1959. Its company motto is "respect the divine and love people"
In Europe, they mainly handle document solutions: printers, copiers through to consultancy and project management. The main driver for our revenue is the number of prints people make – and people are printing less and less. So the solution is to move from a box shifting business to a service-based business, providing document outcomes.
To manage this shift, they needed a cutting-edge service management tool. Their exiting IT was designed for moving boxes around – and they had a very fragmented IT infrastructure, making data collection very difficult. They needed to consolidate that data.
In 2016, they started a RFP. They took it very seriously – 300 business requirements, 30 business processes. They went out to 16 vendors, from whom 12 replied. They whittled it down to a shortlist of 3, including IFS. They chose IFS because it was the most comprehensive and versatile solution – and in particular, they were intrigued by the IFS IoT solution.
They signed an agreement with IFS in 2017 and then started pulling together the project teams. They wanted to roll out a single system in each business and country. They built integration with SAP. And they started working on an IoT proof of concept, which they're announcing today was successful: there are 50,000 objects connected today.
Their rollout of the service program is planned to last three years, rolling across 17 countries, with 127 people in the project team.
In the future – by about 2019 – they hope to move to predictive maintenance, rather than conditional maintenance. They're planning a portal for their customers, which is being developed right now. They also want to be an integration partner in the future to provide document management solutions to iFS partners.
Success is a journey not a destination – and we're glad to be on that journey with IFS.
---
IFS CEO Darren Roos
The turnout for this final keynote is incredible – I'm continually being amazed by how engaged everyone is.
There is a real enthusiasm for the technology we've launched: Apps 10 and what we're doing with FSM. We've sent a clear message that we're open for business for partners. We've made some great move forwards with UX. We've made huge improvements on configuration rather than customization. We've talked about AI, and other functional things we're bringing to the product.
There's been a lot of customer feedback. It wasn't always as direct as it could be. It's really important to have your input.
This is day 32 for me at IFS. We have a real differentiator in the relationships with our customers. You trust us to drive your business. It's like a marriage, we're committed, in this together – but it's not always perfect. And there are way more good times than bad times. When times are tough, be confident that your vendor will be on the end of the line and will be there to help you.
Heres' some of the questions you left for me:
We're in the middle of an IFS Applications 9 implementation. However, IFS Applications 10 looks like it has massive changes. Should we switch to that?
No. Finish what you're doing – get value from what you're doing. And then look at going to 10 – or even 11. And we're going to make it even easier to upgrade in future.
With such aggressive growth plans, will you shore up support resources?
We're trying to take a 21st Century approach to our support. We want to leverage community support, search and self-solve as well as the ability to speak to someone.
Does your team in Sri Lank play an important role in IFS's global operations?
Yes. We've been there for decades, and we have a young dynamic and diverse team there. I anticipate we'll be doing much more there in the future.
Are there any plans to improve IFS in distribution?
Yes. There's some of it in Apps 10 – and if there's anything else we can help you with, let us know. We want to move to a more customer and community-driven approach.
Where are there great features is FSM not being brought into ERP?
It should be now, with the new release!