In these days of fake news, there is a tendency to dramatize the fact that change is constant and occurs gradually but happens suddenly. I would like to shed some light on the retail apocalypse, the digital revolution within retail and the fact that the industry will never be the same again…ever. Is this true? Or is it just that digital change in the retail industry has occurred gradually, but now seems to be appearing suddenly in consumer-centric industries as well?
If I were to agree with anything, then yes, this is a transformational evolution, and the view that retail and wholesale activities are once again about us, the customer, is something good. Current technology has increased the speed by which this change is occurring, but the fact that the world is becoming a truly global commercial arena is also a new condition that we must learn to live with.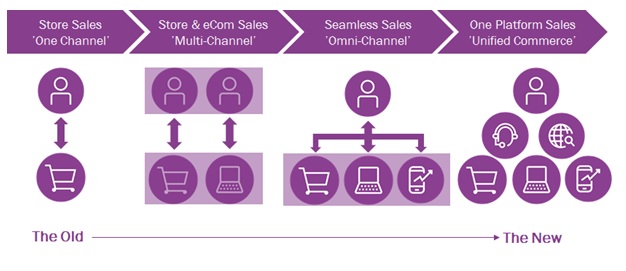 The transition to successful modern retailing
Country-specific conditions vary as well, and the hard-landing that we see tendencies of, especially in the US (Forbes article: Retail Apocalypse? The Sky Isn't Falling — The Sector Is Just Evolving), is not so evident in countries of less commercial maturity or those that are less penetrated from a store perspective. In these, we see more of a soft-landing or continued shift from physical to digital. The recent Alibaba Group's Singles Day sales not only shows the shift in the buying power from west to east with mind-blowing record numbers from one of today's leading marketplaces but it also shows the transition to successful modern retailing that entails omni-channel commerce capability as we have come to know it.
So then if we agree that the evolution and the rise of the digital era are here, what trends do we see in the field of technology for consumer-centric industries? In accordance with the depiction above, the 'nirvana-stage' of things has come to be known as 'unified commerce'. Briefly, this means that all you need can be found in one system (or at least few systems) of choice, making it possible to create what we know is of the greatest importance—the customer experience. A recent report on the matter based on US and UK retailers found that retail winners focus on:

The paradox here is that the new opportunities offered by the cloud enable a reality with loosely coupled systems and the appearance of unified commerce, initiated in many ways through a one-truth strategy. The focus once again is only on appearance and not also on capability as it should be. But don't just take my word for it; see Gartner's analysis, Critical Capabilities for Single-Instance ERP for Product-Centric Midmarket Companies, on the topic.
What is unified commerce?
Unified commerce means that you connect to the new, continuously expanding digital touchpoints and to the physical, more traditional touchpoints via a commerce API interface.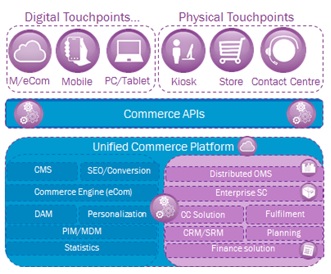 The all-in-one unified commerce entails the following main functional areas:
E-commerce/commerce engine
Content management system (CMS)
Search engine optimization SEO/conversion
DAM/PIM/MDM
Distributed OMS
Enterprise SC including inventory & sourcing capability
Contact center solution
Fulfillment solution including warehouse management system (WMS)
CRM/SRM solution including campaign & price handling
Planning including assortment & merchandizing solution
Finance solution
Technology will not, however, realize the full potential of the customer experience. However, in today's digital world it is a prerequisite. How this is being realized is probably as unique as the plethora of customer journeys of interaction we, as consumers, have with your brands across the globe. But, as customer experience providers you need to start climbing the value ladder and increase your ability to compete in this digital world of commerce.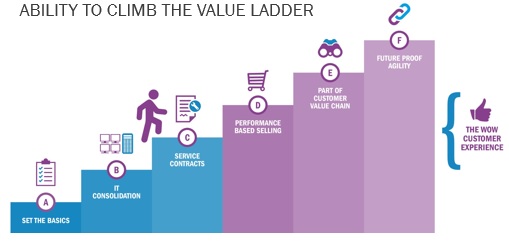 ---
I welcome comments on this topic, topics concerning retail and wholesale or customer centricity issues.
Connect, discuss, and explore using any of the following means:
If you have questions or comments about the above, we'd love to hear them so please leave us a message below.
Read more about IFS for Retail
Follow us on social media for the latest blog posts, industry and IFS news!