No time like the present… or maybe tomorrow.
Have you seen that comic where a medieval king in full armor turns down a machine gun salesman with the words "No thanks, I have to prepare for battle."? It's a nod to all those companies who are too busy doing their day-to-day to plan for the future, let alone meet a sales person. Many of us wait until we stare a problem right in the face before we start to look for solutions, but is that really being responsible?
Corporate social responsibility (CSR) is one of those areas that's often left behind. It is the discussion point that slips off the agenda when the meeting goes over time or is the thing you read about but can't always see an immediate requirement for doing, so you forget about it. Then, you keep ignoring it until one day something slaps you in the face and wakes you up.
A recent survey undertaken by IFS proves the significance of CSR. Most large businesses want to work with socially responsible suppliers, for policy reasons and/or to satisfy their customers' demands. That means many of us have some homework to do unless we want to be screened out of the tender process for lacking social commitment – a requirement that's becoming more commonplace.
START BY FINDING YOUR MOTIVATION
The vast majority of white collar workers born after 1980, also known as millennials, see taking responsibility for the greater good as a given for any large organization with serious intentions. I got a dose of reality just the other week when my marketing lecture to a class of college students transformed into a discussion about how far companies have to go morally in order to secure a clean and safe supply chain, from raw material to end consumer. To me, this again underscored the importance of taking a proactive rather than passive approach to CSR. Simply giving money to charity isn't enough and every company needs good ambassadors and engaged employees to really make a difference.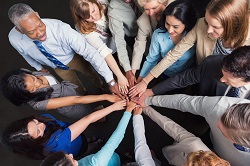 A good first step when setting up a CSR strategy for the first time is to take a good look around your organization to find the people who really care about these issues or who may already be engaged in projects to help others. Believe me, you'll find them! They themselves may not see the food charity program or kids' hackathon they engage in as taking social responsibility – after all, they just engaged because they care – but these people are key for any organization with a serious intention to make a difference. Real impact comes from an engagement at the grass root level, not by top management decisions alone.
We at IFS had a wake-up call a couple of years ago when we did an audit to see what CSR activities our colleagues around the world were doing. It didn't take many e-mails to realize how much had been going on below the radar for years. Food donations in the US, university scholarships in Sri Lanka, designing university courses in Sweden, Ph.D. research projects in Poland… the list just went on and on. It quickly became clear that central resources should be made available to support these local ideas and stimulate the exchange of best practice between countries, rather than assuming that everything has to be handled centrally. Today, our CSR engagement is made a reality by the voluntary efforts of many hundreds of our employees, coordinated by a smaller group of passionate CSR ambassadors who are structuring the time and resources we have available on what they feel is important locally.
DEMAND CLEAR ANSWERS FROM YOUR SUPPLIERS
Customers and prospects are already starting to ask what we do for the greater good, which has helped all of the organization realize the importance of having a CSR strategy in place. In this year's customer survey, a vast majority of our global customers said they are actively looking for suppliers with a thought-through CSR agenda. This type of demand-driven awareness is just what is needed to put CSR on the agenda and force suppliers to account for their activities or even transform the way they do business.
Social responsibility is not a fluffy topic anymore—it's a business reality. Are you prepared?
---
Do you have questions or comments about corporate social responsibility?
We'd love to hear them so please leave us a message below.
Follow us on social media for the latest blog posts, industry and IFS news!