Do you know which four features to look for when evaluating asset-intensive software?
As I mentioned back in June of 2015 when referencing the Imerys' fantastic achievements within mining, the foundations that could equally be applied when selecting a software product for your asset-intensive business are agility and flexibility. Therefore, when evaluating a product/vendor, it is important to verify that the product can be easily configured by users and partners to meet the ever-changing requirements of your business.
Here are four important features to look for when evaluating asset-intensive software:
1. The Ability to Optimize is Crucial. Does the vendor's software give you this ability?
During these difficult times in the minerals transformation sector, when commodity prices are still being forced to lower, the ability to optimize the business is critically important. Many mining companies are able to optimize their businesses through the use and capability of digital tools. One of our major Alliance Partners, Accenture, is particularly active in this market and has an extremely impressive Connected Mine solution. The real business benefit of this proposal is further enhanced, when the Connected Mine solution is integrated with the enterprise solution.
2. Does the Vendor's Software Utilize the Internet of Things?
With health, safety and the environment being more important than ever before, utilizing features associated with the Internet of Things (IoT) can prove valuable.
The Connected Mine solution, for example, harnesses the digital revolution of IoT by monitoring employee fatigue, ensuring the health safety of your workforce. When connected to the HR component of the enterprise solution, a personal counseling, training or disciplinary program can be initiated directly from the real-time monitoring of employee performance.
This is an extreme example but it does highlight one-way organizations can harness the IoT's digital revolution to ensure the best use of company assets.
3. Can the Vendors Software Improve Asset Reliability & Performance?
In the asset-intensive world, it's a little more straightforward. Advanced analytics are used to reduce machine downtime and inventory costs by monitoring and predicting when asset maintenance is needed. Through our work with Accenture, utilizing the Microsoft Azure Suite's connectivity devices, assets and sensors is easier than ever before, which is leading to improvements in asset reliability and performance. You can see this process demonstrated in this Connected Mine Solution Video.
4. Can They Demonstrate the Software's Ability to Benefit Your Business?
When evaluating asset-intensive software solutions, it's important that the product can demonstrate its ability to take modern, leading-edge ideas within an enterprise solution, and transform and utilize it for the benefit of your business. This is a key differentiator and an important element of the software selection process. As I previously mentioned, Imerys' story stresses the importance of this capability.
Selecting an Asset-Intensive Software Solution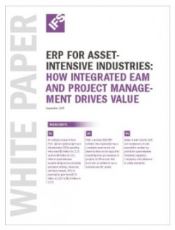 For more information on what to look for when selecting an asset-intensive software solution, read this new white paper, Software Selection for Asset-Intensive Industries.
I also recommend watching this customer testimonial video to see how one mining company is leveraging IFS Applications to become agile, flexible and to ensure that asset management excellence remains at the heart of their company.
Follow us on social media for the latest blog posts, industry and IFS news!
LinkedIn  |   Twitter   |   Facebook   |   Google+
Do you have questions or comments about selecting asset-intensive software?
We'd love to hear them so please leave us a message below.