The focus for IFS R&D is to deliver a product that has a good balance of sustainable and innovative functionality for our customers. We have a good stream of new functionality that reaches the market. The brutal fact is that a product innovation is worth nothing until it's actually used by a customer and that's why the path to innovation is so crucial for IFS.
IFS User Group meeting – sharing is caring
On Monday and Tuesday, some 240 people representing IFS customers, partners and employees will gather at Clarion hotel in Stockholm for the annual IFS Scandinavia User Group meeting (Swedish). There will be two days with keynote presentations and breakouts to share product, business intelligence and inspiration. I have a keynote entitled "IFS – a quicker path to innovation and profitability", and I would like to share some insights from my presentation in this post.
Look at the picture below. I think it perfectly illustrates a very common problem in most industries today; the struggle between user happiness and number of features. In the software ERP industry, we are often "tormented" by RFPs with endless Excel sheets of product requirements that a company thinks they need when selecting an ERP solution. I think both vendors and customers agree that all these functions will not be used in reality—you could easily remove 50% of the requested functionality. The problem, however, is to know which 50%.
Thanks Kathy Sierra for sharing the picture. I recommend you to read her post about The Featuritis Curve
For IFS, the focus is not on the radical innovations that change the world; in reality there are very few of those. Analysts often talk about disruptive technologies that act as game changers. The hyped areas today are mobility, cloud and big data. I would rather call them additive technologies as they will complement existing business models and technologies and will make business smarter and faster. I repeat; these technologies will only play a role in a company when they are in production. The path to innovation is the key.
One important element in the path to innovation is to learn about all the new capabilities in IFS Applications. We can help our customers to add—stepwise and pretty seamlessly—new product innovations to their ERP suite without major business intermission.
There are four steps to be made:
Identify and prioritize the business challenges or opportunities within your company
Match them with your business vision—decide go or no go
Identify whether the business software will help you to manage the challenge or opportunity
Explore the new functionality in IFS Applications and learn whether it can support your business needs.
I have shared four sources to find out product news in IFS Applications. Most of the detailed material has private access and is only available to IFS customers and partners.
~5 minutes Tips & Tricks videos (private)
This is a great source, with quick guides to get the maximum out of IFS Enterprise Explorer. Here you find ~30 movies to learn how to use the Attachment Panel, Administer My Start Page, Work with Tasks and lots of more neat features in IFS Applications. This is hot stuff; please contact me to get access to this service.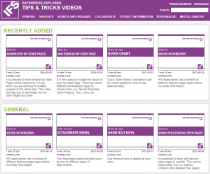 ~3 minutes demo movies (public)
On YouTube you find lots of short demo movies that take you through neat functionality in IFS Applications and solutions from our partner ecosystem. Open YouTube and search for things like;
IFS Notify Me, IFS Trip Tracker, IFS Mobile Work Order, IFS Applications demo videos, Addovation, Din ERP, Novacura etc.
On the IFS World page you find customer testimonials sharing why and how they are using IFS Applications on a daily basis. Here you also meet Alastair Sorbie, CEO IFS, who shares his view on business trends and opportunities.
~60 minutes news presentation video (private)
To learn about new functionality in a service pack or a product extension, please hit this link.
Here you find a library of +100 videos. View on-line or download the file to watch on your next flight or business trip. This source is only accessible to IFS customers and partners via openIFS.
Upgrade enhancement index (private)
All new functionality in IFS Applications that is released in core versions and service packs is described in text format that is easy to consume and share within your company. You can filter among solutions, products and versions to get a list of new functions and business benefits. You'll find it in openIFS.