IFS is a truly global brand, with over 5,000 employees and an enterprise value of 10 billion USD. At IFS we develop cloud enterprise software for companies who want to be at their best when it matters most to their customers. We have built a reputation for helping our customers in their Moment of Service™, but what makes us stand out as an employer? Why should you work with us? And how can we help you develop your career?
The answer to this is a promise to all our employees: at IFS you will get the chance to #MakeYourMoment.
There are moments in your life that make all the difference: moving home; getting your qualifications; falling in love; becoming a parent—but there are also moments that define your professional career: that massive project you successfully completed; colleagues that turned into lifelong friends; the promotion you worked so hard to achieve. Specific points in time that become personal highlights and ultimately moments that turn into lifelong memories.
We want to join you on your journey and support you in making these moments possible.
We choose to nurture and develop talent and give everyone the chance to learn new skills and grow professionally.
We believe our employees are fundamental in delivering our service, and at IFS we are proud to challenge our people, giving everyone the chance to make an impact and create moments that instill pride in both your career and your personal endeavors, so that everyone in the IFS community has a sense of purpose.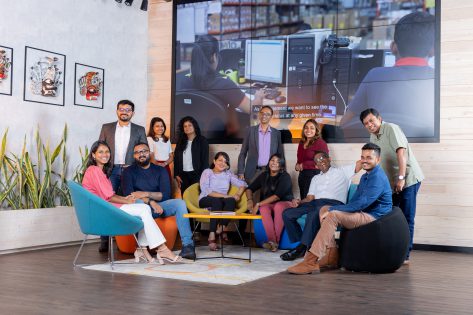 Here are five reasons to join and grow #TeamPurple and how we can support you in making your moment.
1) Our global and diverse environment
At IFS, you will work in a truly international environment, with an opportunity to work with colleagues from all over the globe. This diversity gives you the chance to learn about other cultures, and indirectly more about your own. We take diversity seriously, at all levels of our organization. For example, on the IFS Board, 50% of our non-executive directors are female, and our gender diversity is currently at 37.5%, a 25% increase from our previous board structure.
2) Join a winning team
For the last three years, IFS has outperformed the market growth quarter by quarter. We win the majority of deals against our main competitors and are ranked as leaders in all four solution areas that we operate in by the most respected analysts in the industry (Gartner, IDC, etc). Last year, we won an industry award every month! We also grow cloud sales by over 100% year on year. That is why today the IFS Group is valued at 10 billion USD!
3) Our commitment to sustainability
We are committed to achieving carbon neutrality across our operations by 2025 as well as supporting the IFS Foundation, which provides aid to local Sri Lankan communities to alleviate poverty in rural communities. At IFS, every employee is encouraged to take a CSR day, giving something back to local communities around the world. We are helping our customers transform their operations, leveraging our technology to develop more sustainable and responsible methods of production and consumption. Lastly, IFS achieved 93% renewable electricity in our operations at end of 2021!
4) We get things done!
At IFS, we thrive in our hands-on, proactive environment where everyone is working towards their own personal goals that link directly to our long term. We honor promises to our customers, thanks to the ambition and hard work of our employees.  Over 80% of customers consider IFS employees as trusted advisors, while three out of four customers see people as enterprising and proactive.
5) We make an impact in the real world
Our people and technology make a difference in the real world. We help run the London tube, Three Gorges Dam, and the Aston Martin F1 cars. At IFS, you help change the world!
Do you want the opportunity to make a real difference? Consider applying to one of our positions. Browse all IFS career opportunities here.
Are you interested in Pre-Sales, Sales, Consulting or Business Development? Have a look at how IFS can help you develop your career in any of these areas.
We are constantly expanding and at IFS there is something for everyone.
Visit our website to find out more.
Do you have questions or comments?
We'd love to hear them so please leave us a message below.
Follow us on social media for the latest IFS news!