IFS is a proud supporter of Lewis Pugh's recent expedition swimming 1 km across a supra-glacial lake in East Antarctica. Below, Pugh shares with us why he chose to swim Antarctica and his commitment to make the world a better place.
People often ask me why I swim without any protection other than a cap, goggles, and a pair of Speedo swimming trunks – even when the water temperature drops below zero. I do it for the challenge. Not for myself, but to world leaders.
When I ask them to protect vulnerable seas and oceans, I am asking them to be courageous. I am asking them to step out of their comfort zone and take action. I am asking them to be leaders and pioneers. How can I do this if I am not prepared to risk something myself?
Even if that risk is to my own life.
I swam here in East Antarctica to bring you this message:

Having witnessed the rapid melting in this region, I have no doubt that we are now facing a climate emergency.

At #COP26, world leaders need to step up or step aside. Time is running out.

Please share.#Antarctica2020 pic.twitter.com/YJZJeKNPlf

— Lewis Pugh (@LewisPugh) January 24, 2020
Under the ice sheet
In 33 years of endurance swimming, I've swum in every ocean in the world. I've broken records for the northernmost and southernmost swims, and for the highest ever swim, in the frozen Himalayas. But I have never experienced a swim like the one I just did under the East Antarctic ice sheet.
Swimming under the ice was as beautiful as it was terrifying. I swam between walls of ice, through an ice tunnel with needle-sharp stalactites dripping down above me. The blues were of every shade imaginable, from bright turquoise to deep indigo.
It was breathtaking, but the boom of the ice breaking above my head reminded me not to linger – that, and the fact that I could no longer feel my hands. The water temperature hovered around to 0°C.
Breaking records
I spent months preparing for this swim. Scientists have recorded over 65 000 supra-glacial lakes on the East Antarctic Ice Sheet. They are not only cold, but they are also unstable – they can suddenly crack and drain out in a terrifying rush.
So why did I want to swim here?  Quite simply to demonstrate the rapid changes that are taking place in Antarctica, and because I have seen the oceans of the world change before my eyes.
I've seen coral reefs bleach, I've seen underwater Gardens of Eden turn to virtual deserts, I have watched glaciers retreat, at both poles, at an unprecedented rate.
Record-breaking temperatures, industrial overfishing, and plastic pollution are just some of the challenges facing our oceans.
I once swam for the challenge of pioneering new places. Now when I swim I do so strategically, to focus attention on an area in trouble, and to motivate for Marine Protected Areas (MPAs) to keep them safe and help them recover.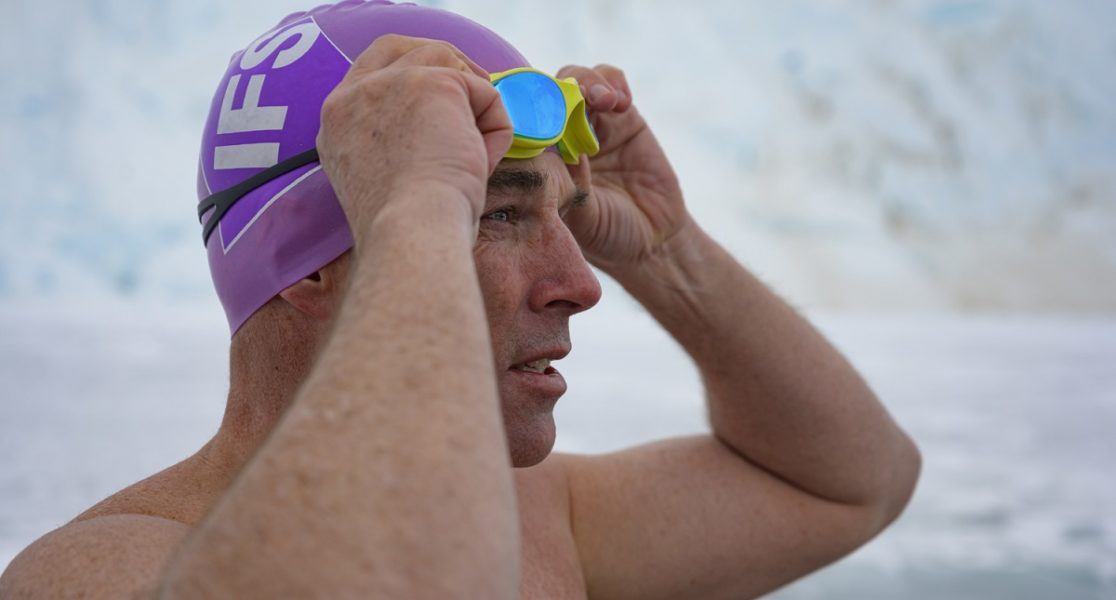 The power of MPAs
Healthy oceans thrive with the kind of life I was accustomed to seeing when I started swimming all those years ago. Healthy oceans are also more robust at withstanding the challenges of climate change.
To date, my foundation has been instrumental in protecting over 2 million km² of vulnerable ocean – an area larger than Western Europe.
We are now working to fully protect at least 30% of the world's oceans by 2030.
Looking forward
I am writing this from Moscow, where I am participating in meetings that I trust will open the way for an East Antarctica MPA before the year is out. Russians are no strangers to challenge, and I believe that they will rise to this one.
At the end of this year world leaders will gather for the COP 26 Climate Change summit in Glasgow. Frustration has been mounting at the lack of decisive action at the last few climate summits. During this one, I will challenge world leaders to be brave and do the right thing.
We need urgent, decisive action, and we need it now. If we fail to act, the climatic challenges the future presents us with may prove insurmountable.
IFS is proud to support @LewisPugh for one of his hardest swims to date in Antarctica – a real-life embodiment of a 'Challenger mindset' for a very worthwhile cause. Good luck Lewis, we are rooting for you! ? ? #ForTheChallengers #Antarctica2020 pic.twitter.com/9CD5NXL8sU

— IFS (@ifs) January 21, 2020
IFS is #ForTheChallengers.
Do you have questions or comments?
We'd love to hear them so please leave us a message below.
Follow us on social media for the latest blog posts, industry and IFS news!