Last night my Tesla upgraded itself to a new software version. Apparently, it can now warn you if you're going to run a stop sign and the automatic lane change is more "aggressive". It got me thinking about software upgrades in general. We all experience upgrades on our computers and our phones.
It's pretty cool to think about a car updating itself, but it positively pales compared to a major version upgrade on a multi-million-dollar ERP system with 100's of users and gigabytes of data.
We just upgraded our IFS system on Thanksgiving Day. Two weeks later and our ticket system is somewhat back to normal, we have a lot of cleanup to do but manufacturing is making stuff and accounting is crunching numbers, so it's all good.
We tend to do our upgrades comparatively fast. We received our first upgrade pass the second week of September and went live 11 weeks later.
Honestly, the entire process amazes me. IFS sends us a bunch of files and a 40-page book and I follow instructions (and maybe a few tricks I've learned over the years) and around 7 hours of database crunching later it's done. They have developed an awesome upgrade process and it just works.
We do have a few things we do to help the process:
No modifications. This has become so much easier. The IFS layered application architecture has made a huge difference in the flexibility of the software without resorting to modifications.
We try to add as little new functionality as possible. Get back to baseline then start implementing new features.
You have to talk to your software partners early and often
We upgrade every three years. We have found that to be the sweet spot between being overly disruptive and falling behind.
We concentrate on the major processes and workflows, we have to be able to manufacture, ship and bill. Reports are important but we can fix those later. Everyone would like a perfect implementation but it's easy to get so bogged down in detail that your upgrade becomes stagnant and expensive
Run your upgrade on gaming hardware. I used:

GIGABYTE Z390 AORUS Ultra Motherboard
I9-9900K 8 core unlocked
3 Samsung 970 Pro PCIe M.2's (2 1T and 1 500G)- I have the OS and the upgrade files on the 500, datafiles on 1 of the drives and control file and redo logs on the other
32 Gig of DDR4 4133 Mhz ram
I was able to beat IFS's and my own production servers by several hours.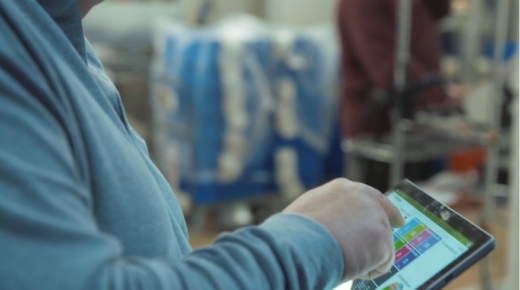 We shut the systems down at 6:00 p.m. on the 27th, and allowed accounting to run their baseline financial reports. At 7:00 p.m. I made the appropriate backups and began the upgrade process. By about 2:00 a.m. the longest part of the upgrade was started. At 9:00 a.m. we imported the permission sets, contacted accounting and let them know they could run their reports and verify the financials. All of the companies matched perfectly.
We spend the rest of that day repointing clients, scan guns, scanners, etc., testing various aspects and having a pretty good Thanksgiving dinner.
By 5:00 p.m. we felt like everything looked good and we went home. That night our first company, located in Sweden used the new system and they were fairly successful, just a few minor glitches. We did further testing on Friday and our normal manufacturing operations started on Saturday.
A smooth upgrade takes a lot of people. I certainly have to recognize my awesome staff who put in many hours of additional work and gave up a major holiday to make this happen. The IFS North American upgrade team is just incredible, they go above and beyond to ensure a smooth upgrade. Our software partners, Cedar Bay, Click Learn, Astra and the IFS Labs team were amazing.
We'll be taking it easy for the rest of December but come January we will be implementing all the incredible new features IFS 10 has to offer. Aurena looks awesome!
This blog was written by guest blogger, Alex Ivkovic, Director of Information Technology at CDF Corporation. 
Do you have questions or comments?
We'd love to hear them so please leave us a message below.
Follow us on social media for the latest blog posts, industry and IFS news!