Up to 28% more work orders a day, up to 60 less maintenance and operation hours a week, huge reduction in materials expenses.
When it comes to unlocking value from IT investment, there aren't many asset-intensive organizations with more riding on their software implementations than those in the Aerospace and Defense sector. Enterprise software in an A&D setting can deliver huge maintenance savings and be the difference between mission success and failure.
That's why the Aerospace and Defense business unit at IFS is very encouraged by the results from a recent IDC end-user study, which calculated the business value customers from various industries derived from using IFS enterprise software. Specific to A&D, the study uncovers some compelling insights. It was revealed that customers using IFS software complete up to 28% more work orders per day, save up to 60 hours per week during maintenance and operations, and prevent the cost of millions of dollars per year in materials expenses.
The metrics speak for themselves
The completion of more work orders per day by A&D customers reflects the ability of IFS to increase the productivity of the maintenance employees responsible for ensuring the continuity of operations. The accumulation of hours that one A&D customer cited as saving per week is based on their ability to draw information from a common platform during maintenance operations. More effective and timely maintenance activities resulted in the same company saving millions of dollars per year in materials costs. Another A&D customer identified the functionality to correctly assess the value of its aircraft over time as a key factor in helping meet its financial reporting obligations.

The A&D customer base speaks volumes
IFS has built a prestigious blue-chip customer base in A&D. The list is impressive and includes some of the biggest industry players—from BAE Systems, Lockheed Martin, General Dynamics and SAAB to Emirates, LATAM, China Airlines, COPA Airlines, Air France-KLM and Southwest Airlines. In addition, aerospace titan Rolls-Royce recently chose IFS Maintenix for exchanging data with airlines operating its Trent engines. The partnership will provide Rolls-Royce with new engine insights, optimized maintenance scheduling, service and product development.
IFS is simply the best in handling complex operations
A&D is an asset-intensive industry where several factors influence software investment. Systems, processes and technologies must support organizations that are running particularly complex operations, with capital assets and staff working across geographically distributed business sites that require constant access to real-time operational data.
This is what separates IFS from its competitors. As one customer summarized after deciding to deploy IFS Maintenix software: "We chose IFS Maintenix because it was the only product able to handle the complexity and size of our operations. We simply thought that IFS was a better solution for program maintenance than the other solution we considered."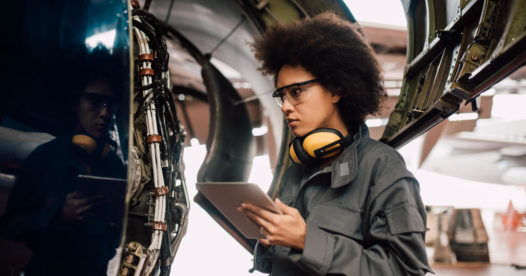 Understanding the complexity of maintenance in A&D is the game-changer

It is essential that A&D customers maintain their capital assets in a way that secures their long-term utilization and enables the smooth-running of day-to-day operations. Due to the nature of the work that organization maintenance teams carry out in sites such as hangars and repair shops, this necessitates the constant flow of accurate and timely information.
The study found that IFS provides customers with a better forecast for future operational requirements, as well as faster response and improved adherence to maintenance requirements. Time saved ultimately enables a customer to have a vehicle, aircraft, ship or piece of equipment in working order rather than waiting for service in a maintenance hangar or depot. The benefit of gaining a more rounded understanding of use patterns for a fleet not only results in better use of the asset itself, but it also represents greater revenue potential for customers whose assets can operate for longer periods.
The A&D findings are part of a wider independent evaluation formed of qualitative research with leading organizations across the world, operating in the A&D, manufacturing, engineering & construction, energy & utilities, and service industries.
To learn more about how IFS is supporting customers across industries, download the full IDC white paper here.
Do you have questions or comments?
We'd love to hear them so please leave us a message below.
Follow us on social media for the latest blog posts, industry and IFS news!
Photo: GettyImages-185331541-Egorych
Footnote: IDC White Paper, sponsored by IFS, The Business Value of IFS Enterprise Solutions with Industry-Specific Use Cases, September 2019