IFS Applications is your platform for innovation that helps you to constantly improve the small things in your business that will make a big difference.
My 13-year-old son is a passionate tennis player. He practices about eight hours per week and spends hours watching matches on YouTube to learn from stars like Djokovic, Federer, Nadal and Nishikori.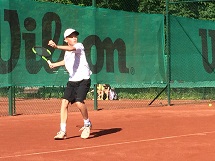 The last year and a half, he has played several matches against a player representing another tennis club in the city—all of which he has lost. However, a few weeks ago, he finally beat him. After the match, I asked him how he had managed to win. His answer left a lasting impression on me:
"I think it was all the small things I did differently that made the BIG difference."
Today, Thursday, June 29, I will deliver a keynote at the IFS Benelux Customer Summit in Benelux on the topic of IFS Applications 9—Get ready for what's next in your industry.
During my 20 years at IFS, I have often had the opportunity to share my thoughts on how I believe companies can gain a competitive edge through new versions of our solutions and other disruptive technologies.
My objective is to outline and explain what's next within your industry, to help you make the right decisions and investments. I have learned from our customers that it's more cost efficient and profitable to avoid the big shifts and to focus instead on smaller improvements.
Change happens gradually but appears suddenly
Each improvement you make as an individual or as a global enterprise will have an effect. However, small improvements are very often difficult to spot as they are happening. It is only when you reach the tipping point that the incremental improvement suddenly (sometimes even surprisingly) turns into a game changer. I have experienced that change happens gradually, but appears suddenly. At that point, you are either ahead, on par with or behind the competition.
In media, we often get inspired and impressed by the big game changers such as Internet of Things (IoT), artificial intelligence and automation, augmented reality (which combines the physical and digital worlds), 3D printing and self-driving vehicles. However, they should not be confused with the reality for most companies. Establishing a game-changing business almost never happens overnight, but rather through small, incremental steps.
IFS offers an enterprise resource planning (ERP) suite, IFS Applications, and a portfolio of best-of-breed products that are designed to serve as a platform for innovation to help you change and adapt your business as new opportunities and challenges appear. Even though it's difficult to predict what's next in every single industry, one of the best ways to be prepared is to choose a software vendor that supports change. This is what I will talk about at the customer summit in the Netherlands today. I will also share how SAAB has been able to cut update management costs by 80%, thanks to our evergreen ERP offering, and how Hexpol was able to upgrade to the latest version of IFS Applications in only three months.
What do tennis and business software have in common?
To become a good tennis player, you need to learn how to win the game. A match might seem quite long, but there are actually only a few must-win points and that constitutes tipping points. Both players instinctively know these tipping points when they occur and that they require instant decision-making. These must-win points exist in business too.
Just like the tennis players, we see that our customers, indeed the entire market, gravitate toward instant and real-time decision-making. By upgrading and running the latest release of IFS Applications, or any other product in our portfolio, your business will be much better positioned to win those crucial game, set and match points against your competitors.
This year, my son achieved another major milestone in his tennis career: beating me. It happened sooner than planned, only last weekend, but we were both equally happy about that achievement.
Your ERP system will make you ready to win the must-win points
If you're looking to switch ERP systems, I have written the "Software selection for enterprise resource planning to prepare you for what's next" white paper that lists the top ten questions you should ask yourself. I would appreciate your thoughts when you have read it.
---
Do you have questions or comments about IFS Applications?
We'd love to hear them so please leave us a message below.
Follow us on social media for the latest blog posts, industry and IFS news!