NEC integrates Internet of Things (IoT) capabilities with its Manufacturing Execution System (MES) extension for IFS Applications.
---
Stefan has more than 20 years of experience with business development, partner strategies, marketing and sales. He has worked with multi-national companies in United States, Europe and Japan, both from an IT perspective as well as corporate finance and management positions. He is actively involved in the business community, serving in Japan as a former chairman of the Swedish Chamber of Commerce and a current Board of Governors Member of the EU Chamber of Commerce.
---
IoT in the news and why it's of interest
Followers of this blog will know that the Internet of Things (IoT) is quite the popular topic these days at IFS. For example, we (along with Microsoft and IDC) held a webinar advising companies how to plan for an IoT, we have shared case studies showcasing IoT in action and our industry directors have also been sharing how specific sectors (like aerospace and defense, automotive and process manufacturing) plan to leverage it. So why is IoT of such interest? Because there is a good reason for this continued interest when looking at the veritable explosion of connected devices predicted by most industry analysts.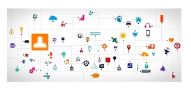 While many in the industry chatter about the possibilities of IoT, we're proud to be taking action by helping our customers to leverage it (in an article by ARC, for example). Moreover, we believe that in order to achieve scale across our ecosystem, it is important to leverage the excellence in the IFS Partner Network to make sure our solutions exceed customer expectation and continue to return value. This is especially true when it comes to IoT.
Working with Partners to support next-generation manufacturing
One very recent example of IFS working with partners to support next-generation manufacturing, or Industry 4.0, is the launch of an IoT extension via our long-standing technology partner and customer, NEC; the leading Japanese provider of IT integration and network technologies.
The solution, which was recently announced by NEC (in Japanese), integrates IoT capabilities in its MES extension for IFS Applications to help manufacturers enhance their competitive advantage and support business growth.
Through integration with other IoT technologies provided by NEC, such as fingerprint identification systems, quality analysis systems, sensors, robots, RFID and handy terminals, companies can:
Visualize and analyze various types of information on the shop floor
More easily identify issues
Help solve problems quickly, providing valuable insight into manufacturing and supply chain processes
The solution is initially available to the Japanese-owned companies and will be implemented and supported by NEC. Therefore, as you can imagine, we are pretty excited about this collaboration with one of our most important partners and we look forward to helping Japanese manufacturers realize their full potential and address tomorrow's business challenges by leveraging the latest in IoT technology.
We're also very much looking forward to sharing more about IoT at the IFS World Conference in Gothenburg this October. I hope I'll see you there!
---
Do you have questions or comments about IoT in manufacturing?
We'd love to hear them so please leave us a message below.
Follow us on social media for the latest blog posts, industry and IFS news!