While the construction sector's digital history is weak, new technologies and ways of working are driving the industry to implement more integrated processes and systems.
At the end of May, I joined IFS customers, partners and experts from across the UK construction industry at the Institute of Directors to discuss the digital issues currently affecting the industry as building and information modelling (BIM) levels 2 and 3 begin to take effect.
In his keynote speech, Mark Bew, Chairman of the BIM Task Group, highlighted the range of benefits that BIM levels 2 and 3 are already bringing to UK businesses.
These benefits included:
an improved understanding of the supply chain process through the use of big data,
an anticipated 53 percent combined annual growth rate in internet-based data management from 2015-2020
as well as opportunities provided through enhanced cloud and on-premise storage methods.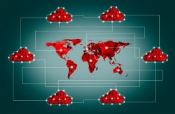 Mark was quick to point out that that delivery and optimization of these techniques has huge potential, but only if there is active participation and collaboration amongst companies and across the supply chain.
Moving towards a fully integrated BIM model
The initial steps towards a fully integrated BIM model have already had a significant impact on many UK construction companies. However, with few clients demanding BIM standards, Peter Trebilcock, Director of BIM at Balfour Beatty Construction Services UK, called upon construction companies to educate the market on the efficiencies and cost savings that BIM provides, particularly with regard to integration and sharing of data and the benefits of efficient energy consumption measures. Peter shared the experience of his company's efforts to better understand its own technical outlay and how they realized the business efficiencies of using technologies such as the Internet of Things (IoT), 3D Printing, telematics and drone teams.
Companies share best practices at Digital Britain
NG Bailey
It's not just in the construction industry where BIM is presenting technical challenges and business opportunities. Paul Marsland, Chief Electrical Engineer & BIM Systems Development at NG Bailey, discussed the impact data management is having on manufacturers across the UK, particularly in product development. He suggested that instead of developing industry-wide datasets that require sanitization by each company, they should be tailored to each business, incorporating existing product data templates (PDTs) to simplify the introduction of product data (from manufacturers) into BIM environments.
Synchro Software & MWH
Tom Dengenis, CEO of Synchro Software, and Tony Davies, Delivery Manager for MWH, took to the stage to discuss 4D construction scheduling and the need to structure data throughout project timelines. Tom and Tony emphasized the need to remove unreliable sources such as Excel and hard copy drawings, replacing these with automated systems that can test the rigour and quality of construction projects before they're brought to the site. 4D scheduling can help reduce the incidence of unexpected events, increase the momentum of installation and lower project time and costs, making this a highly impactful section of the BIM agenda.
University of Westminster & Babcock International
Rob Garvey from the University of Westminster and Tim Welburn from Babcock International discussed the benefits of best practice collaboration between industries, which has thus far been slow for UK construction. Both speakers highlighted that shared technologies are beginning to shift this trend and that the integration of resources, work schedules and finance systems can make different operations platforms look similar in terms of resource outlay, allowing companies to develop complementary management strategies.
PWCom
Paul Wilkinson, Managing Director of Specialist Consultancy at PWCom, provided a fitting overview of the construction sector's uptake of digital technology over the last 20 years. Describing construction as "a digital have not," Paul referenced McKinsey's latest industry digitization index, which shows US construction in second to last place above the agriculture and hunting industry. He ended on a brighter note with predictions for greater cloud uptake as security measures improve and business confidence increases in multi-device strategies as interlinking data principles improve across the sector.
IFS
To round off a series of highly engaging discussions, our own Steve Treagust summarized the key theme for the day – data management – reinforcing that measurement of company data is not enough and that a combination of mapping, monitoring and management is essential to delivering business goals.
A final thought on Digital Transformation
We were delighted to bring our clients and partners together to discuss the digital future of British construction. The Digital Transformation trend that is driving major change in the industry is not a straightforward one, and we continue to work with clients across the UK who are striving to address their technological challenges in the adoption of a Digital Transformation strategy.
IFS Digital Britain gave attendees some fascinating, first-hand insights into these challenges. While they vary across the sector, there is clear common ground on the benefits of data control, collaboration and new solutions that put datasets at the heart of project and asset management. While the construction sector's digital history is weak, new technologies (such as BIM) and ways of working are driving the industry to implement more integrated processes and systems to ensure they are the winners in the future.
---
Do you have questions or comments about Digital Transformation?
We'd love to hear them so please leave us a message below.
Follow us on social media for the latest blog posts, industry and IFS news!