Today at ARC Industry Forum in Orlando, Florida, we've announced a "plug-and-play" version of IFS CPM (corporate performance management), for companies in the Power Generation sector.
In today's fast changing world, business intelligence (BI) is not enough. It's clear the energy and utilities sector transformation has been a significant reality over the past 20 years: huge global demand growth, investment and affordability, cleaner energy, smarter energy and the changing role of a customer.
An enterprise wide, 360 degree view of operational business processes and performance value chains is crucial to improve the flexibility and predictability for these businesses to inform decision making and avoid 'Strategy Leakage' against a company's business plan.
IFS CPM "Plug & Play" enables Power Generation customers to dynamically unlock value by actively managing performance, supporting business process change in just days not months, with Power Generation industry best practice packaged ready out of the box. Customers can then maximise generation capacity through reduced operating costs and streamlined internal processes.
As a business that has been serving this market for more than 20 years, IFS is working with the world's largest power generation projects, such as national grid corporations, nuclear power plants, and multinational energy generation, transmission and distribution companies. We have used insight from these relationships to create a business performance platform that goes beyond visual insight, and that adopted by traditional BI, to understand enterprise performance and enable better decision making.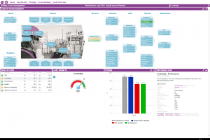 In order for large organisations in the Power Generation industry to be able to react at the pace that governments and consumers demand, they require immediate access to not just data but, information across the enterprise and the context for the processes that underpin an organisation.
So what are the advantages of IFS CPM "Plug-and-Play"?
Fully integrated with IFS Applications and easily connected to other source systems to provide an end-to-end view of business performance, it solves the limitations of traditional bottom-up BI solutions by providing a business model-driven approach. The solution includes:
Prepackaged solution optimized for the complex and highly regulated power generation industry
Preconfigured, out-of-the-box business processes, cockpits and KPIs
Solution will plug and play as a complement to the company's existing IFS solution
Very rapid implementation and low service costs
Enterprises can adapt solution progressively over time