Did you know that 90% of information available today is created within the last two years? It's hard to believe, isn't? Data volume explosion is within social media and did you know that technologies can analyze this data and predict the future, indeed very precisely? Have you ever thought about the business advantages to learn how to use these tools in business? Have you encountered the risk if you don't? Data is the new oil – discover and tap it and you may earn a fortune.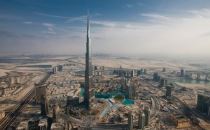 I'm sitting on an Emirates flight back home from Dubai after a keynote speech at an EPC-event (Engineering, Procurement, Construction) and my brain is still spinning. I am thinking back to the seafood pasta at the foot of Burj Khalifa, the highest building in the world (828 m), and am still amazed what human ingenuity can achieve. However, without the "black gold" deep in the dust, this project would not have been possible. Oil gives tremendous financial strengths to states and companies.
However, in a few years, data has resulted in huge business opportunities for companies too, almost comparable with companies in countries that have deep oil reservoirs. Examples are Facebook, Google, Twitter to mention a few.
The reason for this data explosion is that the data we as individuals share and consume 24/7, both in private and in business. Buying behavior on Internet is logged as you browse products and services you like to buy. As you update your social community about where you are, how you are and share opinions we reveal a digital footprint that is possible to follow and analyze. In addition you may add the data you explore in business applications, when you do it, with whom you frequently communicate, you can find trends, challenges and business opportunities that goes beyond imagination.
Ways big data can create value
Big data can create value in several ways. The below four paragraphs are inspired from a McKinsey report and summarizes the business values very well.
Big data can make "information transparent and usable at much higher frequency". You don't need to wait for data to be consolidated in data warehouses as it can be analyzed in real-time thanks to in-memory technologies.
Organizations can create and store more transactional data in digital form. "They can collect more accurate and detailed performance information on everything from product inventories to sick days, and therefore expose variability and boost performance. Leading companies are using data collection and analysis to conduct controlled experiments to make better management decisions; others are using data for basic low-frequency forecasting to high-frequency nowcasting to adjust their business levers just in time".
Big data lets you understand your customers' preferences and requirements letting you to tailor your offerings to fix your customers buying behavior and trends. "Big data allows narrower segmentation of customers and therefore much more precisely tailored products or services".
Big data can be used to improve the development of products and services. "For instance, manufacturers are using data obtained from sensors embedded in products (machine-2-machine) to create innovative after-sales service offerings such as proactive maintenance (preventive measures that take place before a failure occurs or is even noticed)".
Let me conclude this post with a quite fun story I read in an article a while ago, it's a good example what big data intelligence can mean in reality.
If you want to know more what IFS can do for you when it comes to big data, please contact David Andersson, Dan Matthews or me and we will share the latest and greatest.
A man in the US demanded to speak with the store manager at the retail chain Target. He was very upset and said "my daughter has got these discount coupons on baby clothes. Are you trying to encourage her to get pregnant?"
The store manager did first not understand what the man was talking about, but looked at the mailing and saw that it was actually addressed to the agitated man's daughter and contained advertisements for baby stuff.
The manager apologized and then rang up a few days later to apologize again. As announced before, the outraged father somewhat ashamed that his daughter was indeed pregnant, but that he didn't know about it. "There has been activity in this house that I have not been aware of. Calculated birth date is in August. I owe you an apology," said the father on the phone.
The incident was because Target had built a system that analyzed the data they had about customer buying patterns, in order to try to figure out if a customer was pregnant. The time around the birth of a child is a time when our shopping habits often change dramatically.
And if affinity and trust can be created with a new parent, it is very likely that the person will continue to shop in the store for many years.
When a child is born is visible in the different registers and the new parents are bombarded with advertising and discounts on baby stuff. Target wanted to be ahead of all the other players and reach consumers when they were in the middle of pregnancy.
Therefore they did set their statisticians to develop a method to detect changes in shopping habits that could mean that a baby was on the way.
What scenarios can you foresee in your company how big data can give you competitive advantages as explained in above example?