Earlier this week, TEC Principal Analyst PJ Jakovljevic blogged about IFS' momentum in Field Service Management (FSM). I invite you to read what he says about our recent wins and expanded project footprint within the field service management arena.
Along with discussing a handful of impressive new IFS customers such as WP Beverages and Ericsson, PJ also compares IFS' capabilities compared to other vendors in the field service management space. After reading his post, you will gain insight as to how IFS is leading the pack.
It is an exciting time at IFS, with the IFS Field Service Management solution being an industry leader. More specifically, IFS Enterprise Service Management offers customers leading edge service management, mobility and dynamic scheduling functionality.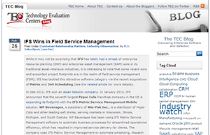 The FSM Evaluation Center
If you are in the Field Service Management industry, I also want to point out that TEC is adding an FSM evaluation center. It will provide organizations deeper insight into the functionality available to manage your business in this service-oriented economy.
Read PJ Jakovljevic's blog at IFS Wins in Field Service Management.