In technology, it's not uncommon to see the terms "CMMS" and "EAM" intermixed. This makes sense given both are applications used by enterprises to manage and maintain assets. However, there are distinct differences relative to scalability and functionality that must be considered. 
The Market Guide for Enterprise Asset Management Software by Gartner provides the following definitions: 
EAM (Enterprise Asset Management):

Used by asset-intensive industries to optimize maintenance and repair of industrial plants and equipment. 

 

CMMS (Computerized maintenance management system):

Small-scale, single-site applications with less functionality around parts management and resource scheduling. 

 
Regardless of the nomenclature, maintenance and asset management remain critical capabilities for enterprises, ensuring a safe, productive, and profitable operations.  
In this blog post, we examine the differences between EAM and CMMS, how each application serves the enterprise, and the importance of scaling seamlessly from the maintenance-centric functionality of CMMS to the performative, data-centric efficiencies of EAM. 
Asset Management Maturity Model  
Does the difference between CMMS and EAM matter? Yes and no. These terms can be used interchangeably so long as you understand how each varies technically, ensuring you select the right solution now and for the future; a solution that serves end-users and the leadership team, while keeping up with organizational development.   
The depth of capabilities an organization requires for asset management and maintenance depends upon the size and the needs of the business. For example, a smaller operation managing a single site is well-served with basic CMMS capabilities for standard asset maintenance.  
However, as the business successfully scales and expands, a basic CMMS quickly becomes a dead end for the company, incapable of delivering the comprehensive asset management capabilities the company needs to succeed.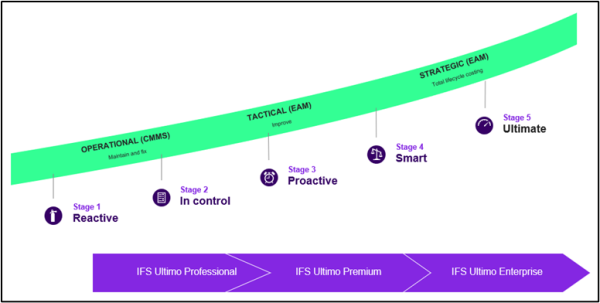 IFS Ultimo Enterprise Asset Management Maturity Model
IFS Ultimo customers are supported throughout every stage of their asset management journey. From early days when operational CMMS capabilities suffice, through to strategic, financially optimized EAM practices, including fully integrated processes for health, safety, and environmental commitments.
The IFS Ultimo EAM Maturity Model provides a deeper view of the potential growth of the organization. It illustrates how to reach a higher level of EAM maturity by moving from reactive maintenance management to a predictable and cost-efficient asset management structure that encompasses all operational functionalities.
From Baseline Maintenance to Comprehensive Asset Management
Kisuma Chemicals is part of the Japanese Kyowa Group, producing high-quality additives for the polymer production and processing industry. Kisuma has four production lines that operate around the clock.
The company's initial engagement with IFS Ultimo focused on straightforward CMMS capabilities to provide operational asset maintenance, including corrective and preventive work orders.
With its practice of continuous improvements, Kisuma's operations are always evolving. This meant that over time, the company needed deeper EAM capabilities to support the business.
Today the company relies on IFS Ultimo to deliver rich EAM functionality that supports a range of capabilities. For example, work permits; shift handover; integration with existing enterprise infrastructure such as the financial system, business intelligence; and Kisuma's fully integrated failure modes, effects, and criticality analysis (FMECA) strategy.
Working with IFS Ultimo, the company continues to progress its asset management model. What began as simple CMMS maintenance functions has evolved into a comprehensive EAM implementation.
Asset Management that Scales Globally
Ravago is a world player in the field of chemical production, with over 30,000 customers across 55+ countries. In 2013 the company implemented the basic version of IFS Ultimo within a single plant, providing core CMMS functionality to help maintain its assets.
As the company continued to grow, the need for more comprehensive EAM capabilities became evident. Ravago wanted to standardize work models across locations in support of its Operational Excellence program, while increasing the availability of assets and optimizing safety within the workplace.
Ravago decided to upgrade to IFS Ultimo in the cloud with a global rollout. The expanded implementation extended deeper EAM functionality across multiple sites in different time zones, using multiple currencies and languages, financially integrated through a certified IFS Ultimo-SAP interface.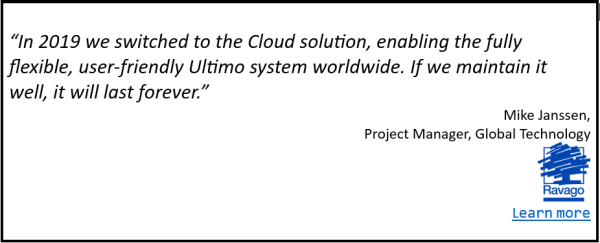 With operations now optimized within the cloud, Ravago benefits from immediate access to new features. For example, Job Planner and Autonomous Maintenance, providing the company with a flexible and scalable EAM model globally.
Scalable, Flexible Asset Management
VTTI is a leading storage provider for energy, chemicals, and other products. The company provides over 10 million cubic meters of storage capacity across five continents.
In its transition to a new asset management system, VTTI initially wanted standard CMMS capabilities that focused on basic maintenance and safety—with the flexibility to extend to an EAM model when the company required it. Most EAM and ERP vendors VTTI vetted had expensive and complicated products that were incapable of providing this level of scalability.
VTTI selected IFS Ultimo based on its range of functionality, providing baseline CMMS features that seamlessly convert to a more robust EAM solution when the company was ready.

The rollout was global and phased. With IFS Ultimo's flexibility, the new system was able to meet the needs of all VTTI terminals—large and small—easily simplifying processes for the smaller-scale operations.
Today VTTI relies on IFS Ultimo to provide rich EAM capabilities, including maintenance and safety processes, improved control of work orders and work permits, and a fully integrated data model that generates a single source of truth for stronger cross-team collaboration.
Next Steps
The need to manage and maintain assets will never go away, so it's important that your asset management technology scales easily with the growth and success of your business.
For some IFS Ultimo customers, this means starting small, with basic CMMS maintenance that easily expands to more comprehensive EAM capabilities as the business requires. There is no need to pay for functionality you're not ready to use. Instead, IFS Ultimo extends to support your business when and as you need it.
If you're selecting a new EAM system or reconsidering an impactful upgrade of your current legacy system, consider IFS Ultimo as a long-term solution for your business. Learn more about IFS Ultimo.