With many employees working at home for the first time, service desks are under pressure to handle an unprecedented spike in demand—with new apps and new devices making life difficult for service desk agents.
"A Gartner survey of 229 HR leaders on 2 April 2020 revealed that nearly 50% of organizations reported 81% or more of their employees are working remotely during the coronavirus pandemic. Another 15% of those surveyed said 61% to 80% of employees are working remotely." – Gartner, Running an Effective IT Service Desk During and After a Pandemic, 2020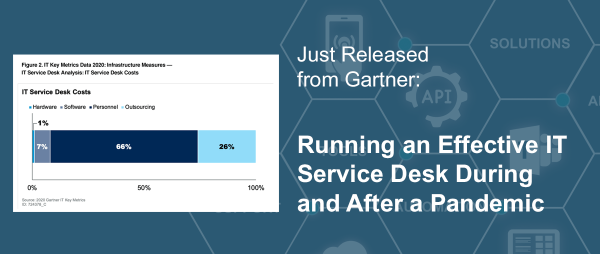 Let's face it, providing great IT support can be difficult at the best of times; even when you have all your people and technology in one place. When your employees are distributed—and physically inaccessible—it can be even more difficult to make sure they have the technology they need. Add the challenge of ensuring the devices and apps they use are kept secure—without the shelter of a highly-tuned corporate firewall and a hardened corporate network. And then multiply the volume of issues, requests and queries running through the service desk by 10 and you've got a "perfect storm" situation.
One CIO said to me: "We were looking at the volume of calls going through the service desk and the volume of tickets and requests going through the portal and it was clear that the service desk wouldn't have been able to cope without the portal."
To solve this perfect storm, ITSM technology and practices need to come together in harmony. We've been working closely with our customers to ensure they have everything they need to provide great IT support and multiple service desk capacity without multiplying cost.
To further help our customers and prospects cope with these challenges, we're making a new Gartner report Running an Effective IT Service Desk During and After a Pandemic available for free download. This detailed 12-page report draws together quantitative research and qualitative insights from Gartner clients to present pragmatic recommendations for strategic and tactical actions.
What's in the report?
Gartner research and analysis of the impact on Service Desks
Adapting how IT communicates
How to use self-service to divert demand
Making peer support and collaboration work
How to adapt SLAs to manage expectations
The long-term effects
Who is the report for?
IT Directors/IT Managers
I&O Leaders
Service Desk Managers
"Things will eventually return to normal, but it will be a 'new normal'. I&O leaders must take the opportunity to leverage the changes in employee behavior and how those will change IT support requirements to offset the challenges of cost optimization on I&O budgets." – Gartner, Running an Effective IT Service Desk During and After a Pandemic, 2020
FIND OUR MORE: