Every summer IFS offers internship opportunities in various departments to provide candidates the chance to explore new career paths, gain valuable work experience and network with professionals in the field. All summer long our interns have been busy working on projects, learning about enterprise software and the industries we serve. As the summer comes to an end I had the chance to sit down with two of them, Sarah Polick and Kristine Lustig, to reflect on their experiences interning at IFS this summer. Here's what they had to say:
Can you first start by introducing yourself and telling us a bit about your background?
SP: Of course! I'm Sarah Polick and I'm from Batavia, IL. I'm a Communications and Public Relations major at Carthage College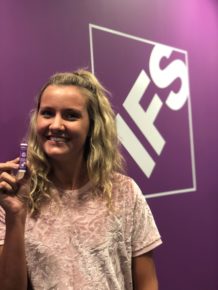 starting my senior year this Fall. This summer I had the opportunity to work as a Human Resources Intern at IFS out of the Itasca office.
KL: My name is Kristine Lustig and I am a senior studying Public Relations and Business at the University of Wisconsin-Whitewater. Growing up in Wales, WI gave me the opportunity to travel to Brookfield to work as a Marketing Intern at IFS.
You both have been busy this summer. What projects have you worked on throughout your internship?
SP: This summer I had the opportunity to schedule phone screens with candidates, create a diversity strategy for IFS, learn about programs and websites the department uses and help the HR associates with other projects and tasks as needed. I enjoyed working on a team and learning about each person's role.
KL: Throughout my internship I have had the chance to use and develop my creative skills. I helped the IFS marketing team brainstorm and create new social media content to help show the human side of company and the people who make IFS a leading enterprise applications provider. I also assisted in collecting analytical data behind IFS's LinkedIn page, created infographics, researched prospective publications, magazines and podcast advertising options, as well as contributing to a range of other marketing tactics.
In your opinion, what was your biggest success or contribution during this internship?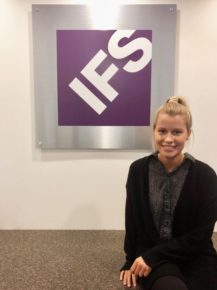 SP: I'd have to say my biggest contribution was conducting diversity research for the company. I learned what other software companies are doing to recruit diverse candidates and analyzed diversity data from the last four years within IFS. By analyzing this data, IFS can recognize its strengths and weaknesses and continue to promote diversity and inclusion in the workplace and in its recruitment process.
KL: I think my biggest success throughout the internship, was presenting the findings from my social media research project. After conducting weeks of research and assessing the data I collected, I presented my findings and recommendations to members of the marketing team and got a really great response!
What was the biggest takeaway from your internship?
SP: My biggest takeaway was working in a corporate setting. It was my first time working in an office environment and I believe interning at IFS has prepared me for my future career. It was also good to see that my coursework in communication was relevant to my HR work—you cannot have HR without good interpersonal communication. From my time at IFS, I feel that I am better equipped for my future career because of the many professional skills I have gained and the exposure I have had to a professional atmosphere.
KL: The biggest takeaway from my internship is the ability to see the big picture. I learned throughout the summer that you must be able to look at the full picture to complete a task successfully. After completing the social media research project, it taught me to always keep the end goal in mind when making decisions and recommendations. Another takeaway from the internship, was the success that being surrounded by a strong culture brought. I did not realize how much your coworkers affected how you performed. Enjoying coming to work every day and collaborating made performing each task that much more enjoyable.
What recommendations would you give to other students doing an internship at IFS?
SP: I would tell anyone completing an internship at IFS to take advantage of all the opportunities you are given. Time passes very quickly and I would recommend completing every project possible. Ask questions and be open to learning about all aspects of the company.
KL: I would recommend coming into the internship with an open mind. There is a lot of information to grasp at first, but after a short amount of time things start to fall into place. Being ready and eager to learn is what helped me succeed and feel comfortable in the position.
What will you miss most about being an Intern at IFS?
SP: I will miss how kind and welcoming everyone has been. I will also miss having my consistent day-to-day schedule in the office. I really enjoyed the freedom and independence I had while working on my projects. Going back to my college class schedule will be a transition! I am grateful for all the people that made this experience so rewarding for me.
KL: The aspect I will miss most about interning at IFS is the company culture. I enjoyed coming to work every day because of the relationships I formed throughout the summer. IFS is filled with kind, hardworking people that made working full-time during the summer enjoyable. I will also miss being able to use my creativity to find new ways to promote the brand. I enjoyed applying the skills and techniques I learned throughout my college courses to the marketing tactics of a real company.
Interested in an internship or career at IFS? Visit IFSworld.com to apply.
---
Do you have questions or comments?
We'd love to hear them so please leave us a message below.
Follow us on social media for the latest blog posts, industry and IFS news!