At IFS, we often talk about providing enterprise software to customers to help them get closer to their business as well as making them agile so they can rapidly capitalize on change. This statement is meant to stimulate support and ongoing commitment and serves as a cornerstone for IFS.
Because this statement resonates with employees, customers are front of mind because their success drives our success. When the customer is the focus of the organization, it becomes easier to maintain a positive culture for all and ensure long-term success. It is because of this mindset and positive culture that makes IFS a great place to work.
I am pleased to share that IFS was selected for inclusion in the Silicon Review's 50 Best Workplaces of the Year – 2016. The purpose of this list is to identify top workplaces of the year. IFS's inclusion signifies that not only does IFS create great solutions and place emphasis on customer satisfaction, but it is also a great place to build a career.
You may be wondering how it is that we fulfill this statement. The reasons are threefold:
Our Solutions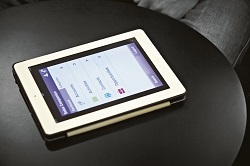 Our products have been developed using leading technology to be as open as possible, based on industry standards with an architecture that lets you pick and choose what you need for your business. They are optimized to be the best option for companies in our focus industries, with support for industry-specific data and processes. The combination of industry expertise, leading technology and flexibility in the face of change is unique to IFS's products.
At IFS we determine how to use technology to drive tangible benefits for our customers, not just theoretical benefits.
Bottom line: IFS is a technology-forward company, always pushing the envelope with new ideas and new products.
Our People
Our strong culture is based on our core values, simplicity, professionalism and commitment and includes a genuine wish to help and support each other. Employees are supported by induction programs and mentors who guide them through the first few months of employment and who remain in the background to provide support and advice throughout each employee's career.
When you ask a customer to tell you what is best about IFS, they most often reply that it is the people that make the difference. IFS employees are engaging, down-to-earth and genuinely care about our customer's business. They like doing what they do and that positive attitude and vast experience are what set an IFS employee apart.
Bottom line: IFS sells complicated solutions to customers with complicated business problems. It takes a team of people to pull this off, and every day we do so.
Our Customers
We pride ourselves in our commitment to our customers in the short term and in the long term. We believe we are not successful until our customer is live and enjoying the benefits of their enterprise software. Our dedication to our customers motivates us to excel in the industry. We work with our customer base and the markets we serve to identify changes and functionality desired in IFS solutions. These enhancements are prioritized by the local User Group and IFS R&D to determine the enhancements to be included in a future release.
Bottom line: To be an IFS customer is to be part of the IFS family. Our employees and customers develop long-lasting relationships and have an interest in mutual success at both the corporate and personal level.
"Our goal is to continue developing and selling the best enterprise software available and to always give our customers a business solution that perfectly matches their need. To achieve that, we will need to continue to attract top talent and invest in developing our employees to exceed the expectations of our customers. For us, it's not just a job-it's a mindset," said Steve Baker, Human Resources Director at IFS North America.
As we celebrate this great accomplishment of being named a best workplace of 2016, IFS continues pressing ahead, developing new technologies and cultivating a great work environment. To learn more about IFS and opportunities at IFS, visit IFSworld.com
---
Do you have questions or comments?
We'd love to hear them so please leave us a message below.
Follow us on social media for the latest blog posts, industry and IFS news!