Bas De Vos
Director, IFS Labs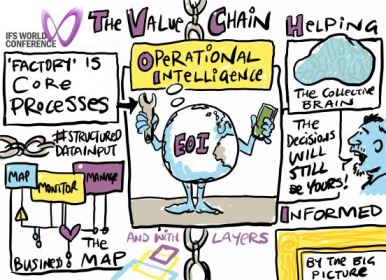 Don't just make data pretty – go to the Van Gough museum if you want that. Visualize useable information for your business – that's what IFS Enterprise Operational Intelligence (EOI) is about.
Why do you exist? What do you want to achieve? Where will you be in five years? You need to understand this to understand what data you need. In fact, you need to work your way through the blue chain of your business to understand how the value you're aiming for is created. We help you map your strategic objectives down to the operational level. You want to do it top down and also end to end.
A map is a good analogy. If you want to understand a city, you go and look at the Google Map of the city. We aim to give you a single picture of the truth, KPIs, processes and strategy in one place. This allows you to start to monitor your business. On that Google Map, you could monitor traffic conditions. With EOI, you can monitor all the business processes that contribute to your company's value. Then, you can manage in an informed way – you can flag issues for improvement or for work orders.
All businesses are different but they all have challenges they want to solve. So, we bring operational intelligence to you as a platform that's flexible enough to incorporate into any business. Your model engine drives the process, including the data collection via the data engine. The management processes you're modeling go into the execution engine, and then you layer a user interface over that.
IFS Enterprise Operational Intelligence 8.1
There are six main new features:
Updated architecture
Improved user interface
We added custom maps
We built an integration into IFS Applications
We made it easy to get IFS Applications data into your EOI
Adapted it for the latest products in the market

Updated architecture
We added the Dynamic Scheduling Engine into the product, alongside support for the brand new IFS IoT Business Connector. What we've got is a platform that allows you to manage everything from strategy to operations, with configurable cockpits, real-time BI and predictive business management tools.
Improved Use Interface
A huge visual improvement – plus it brings it into IFS's house design.
Custom Maps
The most important new feature. It's basically an SVG file brought into the system,where you can map objects in your business onto objects on the map and investigate them that way.
IFS Enterprise Explorer
We now have one IFS working environment for the end user, with single sign on. Our interface has molded to the IFS Enterprise Explorer paradigm.
Information Source Integration
This is a layer on top of IFS Applications that shows data in a star structure. Integration allows you to tie metrics in EOI to a specific IFS field.
Dean Kissos
Edwards Companies
Edwards is a real estate development company active in 30 states in the US. We have a bunch of disciplines under one roof to get development done – and with them, different cultures. EOI seemed to give us the chance to break down the different silos of information and see how each element of the chain has been working.
Some of the great things we saw as an early adopter was the visual management. Real estate is very touchy-feely. To be able to look at a scheme through a construction cockpit and a leasing cockpit has been really interesting.