Graham Grose
Aerospace & Defense CX Director, IFS
We left last year's Woco in Boston with very high hopes and they were not dashed. We achieved our ARC ranking of #1 in Enterprise Asset Management (EAM) in aerospace and defense for the eighth year in a row. We've seen continuous development in all the areas I manage.
On the civil aviation side of A&D we're seeing exponential growth in aircraft production, matched with similar growth in passenger demand. The UK has been dilly-dallying over a new runway at Heathrow, it now seems to have made a decision to go ahead, but as one analyst said, we should get over that decision and add a runway at Gatwick as well – we'll need both.
Geographically the focus is changing as well – Dubai has moved to the top of the major transport hubs table in less than 10 years. The new aircraft may be better and more fuel-efficient, but they still need maintenance. Now, we at IFS have a world-leading component repair facility in our products and we are, without a doubt, the leading engine house solution.
Civil aviation is a dynamic market, changing quickly and keen to implement best practices. Most airlines are managing a complex fleet with different maintenance needs. They need to make the most of the scarce – and expensive – skilled workforce resources. That means a focus on efficiency. It's a heavily regulated market – and passengers appreciate that – so the need to adapt to regulations changes is vital. And, a 10% cost reduction on maintenance for a flight could double profitability.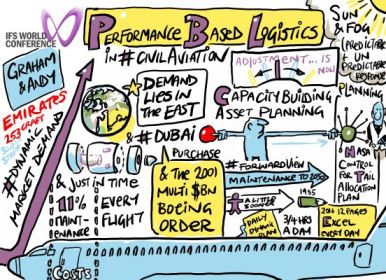 Automated tail planning
Tail planning software hasn't always kept pace with rapidly increasing market growth and fleet complexity. A typical airline will have an aircraft allocation team on this task, spending some 3–4 hours to prepare just a single 1-day optimized plan. Some have been good at 'Gantt' planning, leaving the operator to interpret, analyze options, and decide a course of action while still under extreme pressure.
Airlines require an automated planning and scheduling system to:
Reduce risk
Increase ULR (ultra long range) efficiency
Improve fleet utilization
Improve maintenance planning
Scaling from a lightbulb to closure of European airspace
In today's booming civil aviation market, airlines need a planning solution which scales from a lightbulb in the cabin to the whole of European airspace shutting down because of a volcanic eruption. A large modern fleet carries planes with low flight cycles and high flight hours, and those with high flight cycles and low flight hours. That makes maintenance uneven, so planners need to manage their fleet to balance that.
There are also more predictable disruptions. Bad fog is common in San Francisco and Dubai for example, but it is predictable. Planning departments have backup plans ready to go. But there are unpredictable ones, like stand changes, where aircrew and passengers end up with the wrong place. Unrest and political situations in any country can create problems which can erupt at any moment. Disruption can start propagating through the schedule unless airlines react quickly.
Automating tail planning
We've gone from 250 to 253 aircraft and 140+ destinations to 150+ in less than six months. It takes the tail planners 3 to 4 hours to prepare an optimized schedule against flights and planes, taking into account disruptions and maintenance.
In 1985 they hand wrote the tail planning schedule. It looks much the same in 2016 – but it's built in Excel and is 12 pages long. When we went to the board with the proposal to automate the tail planning, the board saw the manual sheets and approved straight away.
Enter IFS Tail Planning Optimization & Assignment
IFS has just launched a Tail Planning Optimization & Assignment solution jointly from events in Bangkok and at the World Conference. Why Bangkok you might ask? Because The International Air Transport Association (IATA) has just announced it expects air passenger growth to double by 2035, expecting 7.2 billion people to travel by air over the next 20 years. Four of the top five fastest growing markets were in the Asia-Pacific.
IFS Tail Planning Optimization provides full visibility and dynamic optimization within a single solution, well in advance of planned flight tasking and maintenance events.
Planners can now handle a wider planning window and dynamically manage hard and soft constraints that affect aircraft scheduling, such as destination or maintenance requirements, and analyze the impact of these events on the flight schedule. Maintenance engineers now benefit from full visibility, ahead of planned maintenance events and available aircraft ground times.
Dynamic scheduling engine (DSE) is at the heart of airline operations. Tail Planning departments in large airlines can receive 150 change requests in a single day. The solution's work-flow management tool is key to help manage those in a sensible way. The solution keeps planners focused on dealing with the exceptions, rather than the whole schedule – the DSE does that for them.
Performance visibility
The built-in business intelligence of the solution is vital. For example airlines have a number of KPIs – including utilization, ground time and compliance. The ever-changing nature of the industry means using configuration capacity. Planning teams are being asked to do different things every day – the solutions built-in configuration capacity copes with this.
Here's another example. Airlines have strict SLAs. Every single maintenance event on any aircraft in a fleet is run through an SLA. Often there's an optimum 'sweet spot' for regular maintenance which an airline can run everything around. Again the solution finds that 'sweet spot'.
There are also  soft and hard rules to manage. An example of a hard constraint is airports that can't manage aircraft that are too small for them, or flights to repair facilities that can't handle it. But there are softer ones around ideal situations that can be broken. Here again the tail planning solution manages the hard with the soft.
The algorithms IFS has presented within the Tail Planning Optimization & Assignment solution means what used to take hours on manually planned and edited spreadsheets is now done in minutes. With planners able to rely on the latest information and a dynamic allocation, airlines can benefit from the ability to offer better customer service, lower compensation fees and an improved reputation for on-time departure.