Janet Apollo
IFS Presales Manager (UK)
Too often when you use IFS Applications, you forget things you used to know because you don't use them day-to-day. Here are some of my best tips. If you learn one new thing from this, then share those tips with your colleagues.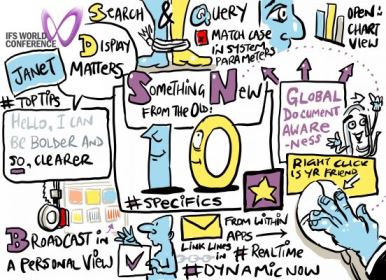 Broadcast Messages
This is the ability to show all users a message they'll see when they log in. It's set up in the Solution Manager and the user has to cancel out of it. It's a great way to warn people about back-ups or link them to a web page.
Displaying Text
In System Options, you can change you text options to a more visible color – this is great for screenshots. It can make information sing more clearly.
Numeric Field Calculations
In every numeric field, you can do calculations. Just use the standard operator notation: + – / *.
Context Pane
It's a line along the bottom with useful information – you can customize and resequence it. Right-hand click and a contextual menu item allows you to edit it.
Direct E-mail from an Output Channel
In an IFS overview table, you can configure an output channel to send your highlighted lines as an e-mail. Useful if you're on the phone and you want to send something to a colleague. This is true of any table, anywhere in the system.
Send a meeting request from an Output Channel
Again, just configure an Output Channel to point to your office tool, like Outlook.
Object Connections Attachments
Every form you have in IFS can be made object-aware. The setup is form-specific and the objects you can attach will be determined by the versions you are running. IFS Applications 9 has a huge variety of options.
Object Connections Transformations
A very neat feature and one that was influenced by customers. Set it up in System Setup. You can link a document in one place but make it visible in many other connections. If you use Document Manager properly, that means everyone always has access to the latest version.
Search Tips
(formerly Query)
Most users want "Match Case" turned off by default when they search. Since IFS Applications 8, that can be done in System Parameters. There are two levels of search – form and enterprise:
You can open a form automatically with a specific search.
When you open a list of values, you can set the system to show a specific search.
You can use a prompt rather than just opening a form.
You can share a search with other users.
Search hints show you the "bad" column for search – the ones that take a long time to search.
You can open a chart straight from a saved search.
You can auto-populate a list of values (LoV) using saved advanced searches.
Using prompts can make data entry much easier in a search.
Search using Ctrl-K. It will show you every part (say) that starts with what you just Ctrl-K'd on.
Enterprise search was completely redesigned in IFS Applications 9. You can group together search domains now.
Learn more about IFS Applications at IFS.com.
Do you have questions or comments?
We'd love to hear them so please leave us a message below.
Follow us on social media for the latest blog posts, industry and IFS news!