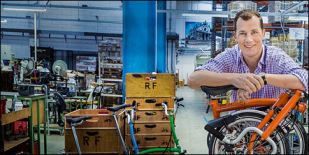 The global economic crisis has had a significant effect on the manufacturing sector, with the prolonged Eurozone slump impacting demand for goods produced in the UK.
However, with the economic outlook continuing to improve – and manufacturing doing well globally – the UN Industrial Development Organisation (UNIDO) reported worldwide manufacturing output up by 3.3 per cent in Q4 2013.
It appears that the wider industry is moving in the right direction.
Things are now looking up for manufacturing in the UK, with a positive outlook for both earnings and business confidence.
A recent Bank of England report showed 2.9 per cent overall manufacturing earnings growth, while a study from the CBI found 41 per cent of manufacturers are more optimistic about business than three months ago. Just eight per cent of respondents were less optimistic, representing a four decade high.
While things do appear to be looking good, it's important that manufacturers recognize that there's still work that needs to be done to strengthen the industry. There are still significant issues that need to be addressed, the foremost of these being a severe shortage of hi-tech skills.
How has this skills gap been allowed to develop? There are two key reasons:
As the economic outlook continues to improve and the industry attempts to ramp up recruitment and investment, businesses will find themselves inhibited by a lack of available workers with sufficient skills. That's a clear warning from EEF, the industry association for manufacturers.The EFF places at least some responsibility on government immigration policy, stating that it discriminates against non-European Economic Area (EEA) migrants and negatively affects the ability of firms to recruit the best Science, Technology, Engineering, and Manufacturing (STEM) graduates.
This leads to the next issue affecting the skills available to employers: the nature of British manufacturing has changed, becoming high-tech, and more focused on design and engineering. Competition from places like China has meant Britain can no longer compete when it comes to manual labour.Instead of making things with our hands, we have moved on to design the machines, software and systems that do the making for us instead, a shift that requires workers with a very specific set of technical skills.
Other factors contributing to this issue include the general decline of UK manufacturing over the last 40 years, lack of investment and the reduced number of apprenticeships on offer to young people entering the job market.
One of the first things that need to happen to address this problem is a shift in perception.
The industry needs to capitalize on the shift to hi-tech and communicate this to young people and the wider workforce. Manufacturing no longer has to be about standing on a factory floor all day – there are now a range of exciting careers available and Britain has an opportunity to become a world leader in a number of areas.
While changing perceptions is important, it won't help unless there's sufficient training available to get prospective employees ready for the workplace.
There needs to be a big push on STEM subjects in schools, and many students benefit from sandwich courses that require them to spend a portion of their education away from the classroom, building real skills in the workplace.
It's important to remember that not everyone is academic, and that more needs to be done to develop individuals who have not been to university.
Apprenticeships provide businesses with the perfect opportunity to foster staff with the perfect skillsets to excel in manufacturing, but there are too few of them.
The Government needs to step in and provide businesses with large incentives to offer apprenticeships – a move that could also help to address wider social issues, such as youth unemployment and long term benefit claimants.
While the skills shortage stands to impact the ongoing recovery of the UK manufacturing scene, there are reasons to be positive.
At the political level, there is recognition that the education system needs to evolve if it is to deal with the hi-tech economy of tomorrow.
What's more, apprenticeships are on the rise and ministers are working to ensure they provide the quality of skills required for employment – a move that has been welcomed by business groups like the Confederation of British Industry (CBI) and the Federation of Small Business (FSB).
Manufacturers need to support the development of skills by working closely with the government on these initiatives, continuing to invest in the industry, and changing the prevailing attitudes people have about the sector.
[Photo via Department for Business, Innovation and Skills, used under Creative Commons license.]