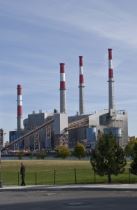 IFS' first customer was a nuclear power plant. And anyone who works for or is close to IFS will have heard the story about how the company's earnest, diligent founders pitched a tent on the grounds of that plant so they could work double shifts and complete the computerized maintenance management system (CMMS) on schedule.
That nuclear power plant is now going through the decommissioning process, and is still using IFS Applications to manage that mission-critical process.
Perhaps no other enterprise software vendor has the power generation industry as deeply embedded in its DNA as does IFS. And that may be why Gartner has recognized
IFS as a Visionary for power generation asset management software. You can access Gartner's report on this sector on this handy page of analyst reports on the IFS web site.
In the power generation space, IFS certainly offers both enterprise resource planning (ERP) and enterprise asset management (EAM) software. But the company may distinguish itself for its support for the entire asset lifecycle, from plant planning and design through decades of operation and maintenance through to, as demonstrated by Barsebäck, decommissioning of the complex asset. There are few undertakings in life as critical as decommissioning such a plant … the exacting order of processes to be undertaken, the diligence that must be exercised in dealing with the spent nuclear rods. This is proof positive right here of how well IFS handles situations with a heavy health, safety and environmental (HSE) focus — something that ought to be of concern for a number of companies across the entire energy sector.
IFS has more than 140 customers involved in power generation, transmission and distribution as well as water and sewage. These include the world's largest hydropower plant, Three Gorges (P. R. China), nuclear power plants OKG (Sweden), PBMR (South Africa) and Qinshan (P. R. China), grid operators such as Svenska Kraftnät (Sweden), Statnett (Norway) and TenneT (The Netherlands) as well as distributors such as Vattenfall (Sweden) and Hafslund (Norway). Reliable and safe asset management and workforce management are critical processes in the energy and utility industry, to which IFS has provided solutions for more than 20 years.
So we are not surprised to be listed as a visionary in this space. Due to challenges facing the power generation industry, including a shrinking workforce as the current generation of skilled engineers and plant managers retire, we suspect that IFS' streamlined, agile approach and focus on intuitive usability will become even more attractive in this sector.  IFS' underlying focus on usability and cool Enterprise 2.0 features like IFS Talk mean that as workers retire, IFS Applications will be able to capture the tribal wisdom these knowledgeable veterans carry around in their heads and embed it in the system of record.
We got our start in power generation, and appreciate Gartner's recognition of our pedigree (again, you can link to the Magic Quadrant Report here). Gartner does a good job of enumerating some of IFS' strengths in the industry. But we are always trying to get stronger. What else do you think IFS needs to focus on to maintain and extend its position in power generation asset management?