Marc Mendez, VP, Magnaflow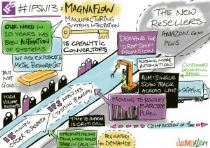 Magnaflow is a manufacturing company, making specialist exhaust systems. They started with catalytic converters. California has some of the most stringent laws in the world around air quality, so they built exhausts to both California and federal standards. They use three precious earth metals to hit the California standard – so California converters cost more, but the market for this specific model is growing because New York is adding regulations similar to California's.  They've been based in California for over 30 years, since 1981. When Marc joined 10 years ago, there was pretty much no automation. That had to change if they were to stay in California – because of the high labor costs. They looked at enterprise resource planning (ERP) systems, and IFS, with its capacity to expand and change over time, looked like a good fit.
They wanted an automated conveyor-driven  system in their Oceanside warehouse – and that involved several integrations. Customers now want the manufacturer to do the manage the inventory for them. That's why they needed the automated system. They also needed an automated system for processing orders. They implemented Esker DeliveryWare, which captured dockets and faxes, and pass them into IFS (this was before IFS offered that functionality). They also replicated into a separate document management toll, OnBase, as a back-up system.
Their original process involved manual order entry, printed pick lists, manual picking and then another order confirmation process. So they tied their instance of IFS Applications into a HighJump warehouse management system, so orders can be processed directly through all three systems. Picking orders arrive on warehouse staff's devices, and the shipping process ties back into IFS to choose the customer's preferred notification method. Theoretically, they could turn an order around in 15 minutes. They can deal with up to 5,000 parcels a day now. There's no more paper in the picking process – it all goes to a device in the staff member's hands.
Early next year, they're adding Radley's barcode solution, and they're upgrading to IFS Applications 8 at the same time.
Competitive Intelligence
Product Information Management is critical to them – it's providing the business intelligence they need to go forwards. This includes comparison with competitor's prices and products and failure rates on their own installations.  IFS Applications 8 means that everything they need to know can appear on one screen – without modifications to the source code. That's really exciting.
They're using Microsoft BizTalk to connect to other company's systems to transfer data electronically. Microsoft Sharepoint is becoming the front end for their intranet, project management, library storage and business intelligence. They're adding IFS Project Management, because it's an integrated part of their ERP,  giving them more tracking ability.
They are migrating from Cognos to Microsoft BI for their IFS Applications 8 upgrade – but they're doing the upgrade "as is" first, and then adding new functionality, including Microsoft BI.
Manufacturing
The Radley/IFS Applications 8 solution is also going to change their manufacturing system. They're  going to push tracking of items in the manufacturing process, because they have complex areas where products essentially "disappear" for periods of time in the system. That movement will be visible with the help of Radley.
MagnaFlow is pretty much a build-to-stock manufacturer. They're using demand planning, and are adding multisite planning with IFS Applications 8, because they're adding an East Coast facility. Customers want product in two days now, where once they were happy with seven days.
Logistics
They have five distribution sites, with one more to come.  They're seeing a shift from pallet shipping to parcel-based shipping. Fewer companies want to hold stock now, so Magnaflow drop-ships to them when they have orders.