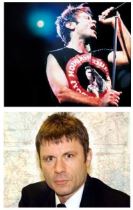 I am in full preparation for my biggest physical challenge for at least the last decade. I am about to cycle Vätterrundan in Sweden—a 300 km bicycle race around the second largest lake in Sweden, Vättern. The race is in June 15-16 and I reckon I'll be in  the saddle for about 11-12 hours.
Why? Well, I'm getting closer to 40 and I feel I need to prove to myself (and my wife) that I'm still fit. That is one reason. The other reason is that all the training will do me good. I know that training is good, but I find it very hard to do it continuously. Having this deadline in June is a definite goal and makes the training so much more fun.
But I still need lots of inspiration and motivation, and after IFS announced that Bruce Dickinson, lead singer in Iron Maiden, is keynote speaker at IFS World Conference 2012 October 15 – 17, I have a new source of inspiration. It is Iron Maiden's Run to the hills.
If you feel listless and lacking in energy, that song is great for shaking you up. Try it. For your convenience I have added the Youtube movie below, which I think is quite funny.
The IFS World Conference will be a great energizer and inspirational boost; I can guarantee that, with its main theme of Innovation. It's loaded with product news, inspiring sessions and speakers that will give you the tools and energy to quickly move your own ideas into profitable innovations. Be there!
Have a look here for more inspiration.