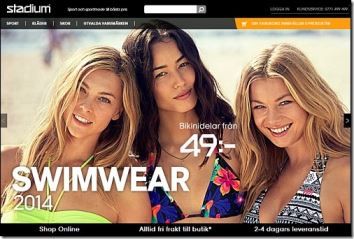 This year, Stadium AB, Sweden's largest sport retailer, marks its 40th year in business.
Today, Stadium is one of the largest sporting-goods chains in Europe with a network of over 140 retail stores that reach across the Nordic region, plus the Stadium Ski and Stadium Outlet specialist stores; and a strong presence in online shopping. The Stadium brand touches millions of consumers in Sweden, Denmark and Finland.
Stadium has been an IFS customer for more than ten years.
Having the right products in the right stores at the right times is a significant factor in Stadium's growth and success, especially as the company drives its online retailing capability that enables consumers to shop online whenever they want.
That's just one part of Stadium's story in which IFS Applications plays a pivotal role for the company. It's a story that Stadium's IT Director, Stefan Maxeby, is keen to amplify.
"We are in a really exciting market; a lot of things are happening out there today. As a result of working with IFS, we have a very cost-effective supply chain. IFS is essential: it's the most important system at Stadium today."
In a new video case study published by IFS, Maxeby explains how Stadium and IFS worked together to create a supply chain management solution specially designed for Stadium. He talks about Stadium's market-building plans in Europe and the seamless shopping experience offered to consumers in the company's online store which, as Maxeby is keen to point out, is fully integrated into the IFS system.
Stadium's online web shop offers consumers the ability to shop online via the device they're using – desktop or laptop computer, smartphone or tablet – at any time, 24/7, from wherever they are. Goods purchased can either be delivered to the customer's address, or picked up from a Stadium store.
And Maxeby offers a glimpse of how he sees Stadium's partnership with IFS going forward:
"We now have a great system that supports our business. It will be exciting in this changing market to work with IFS and see what we're going to do together in the next ten years."
See Stefan Maxeby's story in less than three minutes: