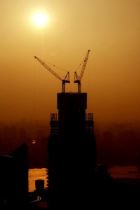 The time has come to stop spending time trying to define what building information modeling (BIM) is and accept that this is about the industry changing how it works. 
The goal is to improve efficiency at two levels:
Make the companies in the construction industry more efficient
Make the assets that the industry build more efficient and desirable (build and operational through life cost)
BIM is NOT simply a 3D design model. It is a business change catalyst. This is one thing that has been becoming clear to me and others in the industry ever since IFS UK and Construction News hosted a roundtable event in the Gherkin, London on November 28th to discuss BIM (read the Construction News BIM article). It was a very lively debate with some of the top BIM experts in the country in attendance, including Mark Bew, Chairman of the Building Information Modelling (BIM) Task Group.
Perhaps we need to reduce the emphasis from the software design tools aspect of the discussion and consider the whole picture and what needs to change:
Culture and Behavior

Need to invest in innovation  
Embrace new ideas from the younger generation
Learn from other industries (e.g. lean construction, work face planning etc.)
Education is required at all levels so we all understand what this is about
Need to encourage a collaborative and open culture and eliminate the fear of sharing data
Challenge traditional ways of working (e.g. bill of quantities based contracts, applications and certification methodology etc.)
New integrated processes across all stages of the asset lifecycle

Time to change the way we do things
Need to move from silo based processes to integrated processes
Need for all business processes to be integrated through the whole asset and project lifecycle including tendering, estimating, eesign, program management, procurement, construction, sub contract, plant and equipment, materials management, risk, progress, cost control, quality, health and safety, asset and facilities management, document management, human resources and finance
Need to deploy an integrated software approach  – reduce dependency on Excel and siloed spreadsheets
Data Management

Need for accurate and timely Information Management across whole asset and project lifecycle
Need for data standards
Document to data driven future
Need to be able to share data
In summary:
BIM is NOT about buying a 3D modelling product. BIM is really an integrated process to manage information across all stages of an asset's Life. It involves the integration of processes, information and technologies. It is about changing the way we do business and continuous improvement. This business change must start with a more integrated systems approach to manage all stages of the assets life.  We need to move from a document driven process to an integrated data driven approach.
We need to change the way we behave and become more integrated and collaborative in the way we work, or we will fail.
If you do not change, expect major disruption to your business.