It's nothing new but mobile access to corporate data is still one of the biggest business challenges and opportunities the modern enterprise has to face. It has to balance the benefits of access to corporate data from anywhere, anytime with the security issues this raises.
This raises a number of questions: can the enterprise provide access to corporate data while retaining control over access from multiple devices, over some of which it has limited control? Is the ROI worth the effort and cost entailed in securing mobile access? And what are enterprises doing today to address these key issues?
To get a better idea, we asked 200 CIO and IT managers from UK-based companies in multiple sectors with at least 1,000 employees for their attitudes towards investing in enterprise mobility schemes.
We found that the drive towards mobility is happening quickly in most organizations because of the business benefits it brings and that it can sometimes override security concerns.
Who is investing?
As we expected, enthusiasm for enterprise mobility is widespread, with most of those surveyed either investing or planning to invest, with smaller, more agile companies leading the way. 76 percent of organisations have discovered clear benefits to investing and velocity is high, with most enterprises planning to invest in the next two years. This degree of urgency shows that firms recognise the benefits of increasing employee mobility – and the difficulty of resisting it.
The attractiveness of enterprise mobility is explained by the wide range of business-related problems it helps to solve, making the pain of transition worthwhile. For example, respondents said that it helps to generate a more flexible workforce, improve both recruitment and retention, and help the business remain competitive.
Who is driving demand?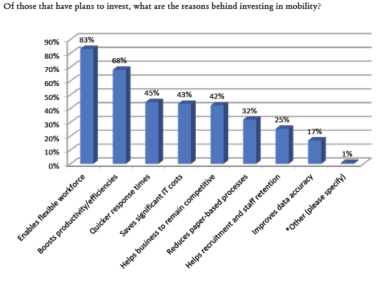 The results show that the greatest demand for mobility is coming from within the organisation itself, with staff looking for ways to make their job easier and improve productivity. This is particularly evident with employees that spend the majority of their time on the road meeting with customers and prospects who want to better utilise the time between meetings.
As we're seeing greater demand for mobility from employees, our report shows that organisations are investing accordingly; 71 percent are investing in mobile applications for staff, compared to 59 percent investing in mobile apps for customers. Businesses are predominantly focused on rolling out personal productivity apps along with those that support job-specific functions, such as expenses, timesheets or document management, with a view to helping employees access corporate data and remain productive on the move.
Security concerns
Security is indisputably the highest barrier to the adoption of enterprise mobility schemes. In the report, of those that haven't yet invested, 46 per cent cited this was due to security concerns. Corporate reluctance can be impacted by stories of confidential business data getting into the wrong hands or the recent NSA scandal, but these issues don't necessarily have to do with mobility.
Mobile security has vastly improved – both with regards to devices and device management and how data is stored and transmitted, but also to internal processes concerning how users and user passwords are managed.
Enterprises' responses have been either to restrict or to disallow access from employee-owned mobile devices. However, such measures are only partially successful, with a majority of respondents aware of access to corporate data despite restrictions. Companies are undoubtedly aware of this, and the strong uptick in sales of tablets to enterprises suggests that they are buying hardware for their employees.
It's no doubt that we'll continue to see mobility have a big impact on UK businesses over the next 12 months, especially as we start to see the technology evolve to better understand user behaviour.
So what are your views on the state of mobility in the UK? Does this match with what you're seeing?