This is one of a series of live blog posts directly from the site of the 2013 IFS World Conference in Barcelona. Business journalist Adam Tinworth is a veteran of Reed Business Information and a lecturer on digital journalism at City University in London. His first-hand impressions are accompanied by illustrations of Matthew Buck, cartoonist for Drawnalism.
Moderator: Jon Briggs
Big Data – it's a word thrown around at conferences. We're all familiar with it. Facts are straightforward – but they have a nasty habit of changing. If you take all the data generated between the dawn of time and 2003, we now generate that amount of data every two days. That's the lifeblood of journalism, his trade. In 1870, a chemist called Erich von Wolf analysed the iron content of green vegetables and did it wrong. He said there was 35g in spinach – but it was actually 3.5g. He made a transcription error, one that took 70 years to spot – and in the meantime Popeye came along to perpetuate the myth. The Half-Life of Facts tells this story and many others.
For example, the Brontosaurus never existed. The same man discovered it twice – and forgot about the first one. It should be known as the Apatosaurus. Mount Everest moves about 6 cm a year – it is a mesofact, because it's changing over time. You need to adapt to this. Stop memorising things, because that can be outsourced to the cloud.
That's why we're here – to refresh our knowledge.
IFS CEO – Alastair Sorbie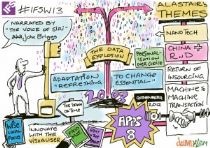 Alastair hopes that attendees are bright-eyed and bushy tailed, because we have a lot to get through. This year's conference is longer by an extra day, thanks to customer feedback from last year.
Over the last couple of years IFS has built an ecosystem with its partners, and that's a big theme of this event. Change is another one, and he wants to talk about this now. China is doing more scientific research than the United States. We have 14nm chip – 41 times the size of a carbon atom. The pace of technology is getting ever faster, as power and size go in opposite directions.
We've had changes in the financial world. IFS does not sell into the financial markets, but its affected by them, and this has been a challenging year. We've seen terror and outrage in Syria – including in the oil sector, where IFS often works. Hence, they'll be investing in defence and homeland security for some time to come. The need is there.
Manufacturing has moved from the cottage to the factory to the offshore locations. Is there a fourth wave of change coming?
Business is changing – some companies are bring manufacturing back to their home company. How do you make profits in a high-cost region? You move to providing goods and services. Why had over the high value services to others? We see that as a project-based solution
There's a move to highly customised, lower batch manufacturing. With that comes the rise of £D printing and fabrication. So far, the uses have been pretty modest, but this is a theme of the perfect storm we'll see more of.
The Internet of Things – machine to machine connectivity – is a huge change. Data is gathered at source by efficient, cheap sensors, that give information that allows repair and better future design.
TOMRA are an example of a business being impacted by all three of these – and taking advantage of them.
150,000 users have upgraded to IFS Applications 8 in the last year. It's also the base for their mobile development. The event will explore some of these trends. The product is being developed to even better support global companies – with a  true international focus.
We know you have a choice: we're pleased you our customers and we value you. We're a strong company financial and globally, but we're also focused on our industries and will invest further in them.