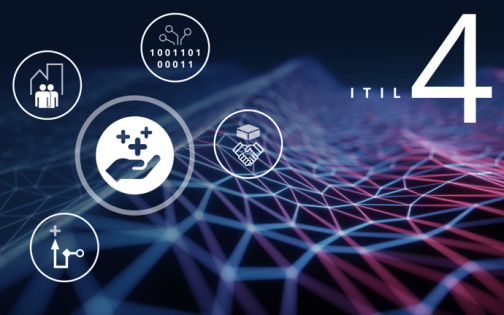 The four dimensions of ITIL 4® are ingredients needed to create high quality products and services which deliver value to customers:
The delivery and support of different services and products requires a different mix of ingredients. No ingredient can deliver value on its own, so a holistic perspective is required: consider all dimensions when designing and changing products and services. The ITIL 4 four dimensions model is a tool to ensure people consider all the ingredients and they don't get too focused on just one area.
Consider the Four Dimensions of ITIL 4 When Designing Services
ITIL 4 recommends that organizations map the activity involved in delivering their products and services as service value streams—the paths of activity required to create value for the customer.  Defining end-to-end value chains helps provide the holistic view that people who perform the activities need to see the bigger picture (this is one way ITIL 4 integrates the 7 Principles of Lean: See and optimize the whole). 
The four dimensions of ITIL prompt people to look beyond the traditional IT perspective of technology to consider the broader service ecosystem—all the moving parts which combine to create value for the customer.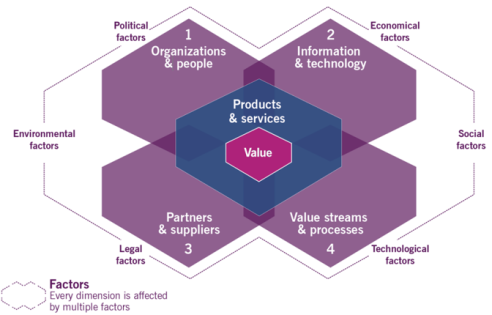 Consider the Four Dimensions When Applying Change
When it comes to the IT change management process, it's important to remember that the four dimensions influence each other. A change to one will always influence the others. The smallest change can ripple across the system, creating widespread disruption. According to Gartner Inc., "80 percent of unplanned downtime is cause by people and process issues" (versus poor design, hardware failures, and external factors). 
For example, when a process changes, the people who perform that process may need to change how they work. A process change may also impact the information and technology. A new process usually means new information is needed to run the process. Where processes are automated, a change in process will require a corresponding change in service automation. 
---
RELATED: What is the ITIL 4 Service Value System?
---
Are the F
our
Dimensions in ITIL 4 the Same as
the
F
our
 P
s in ITIL V3?
The four dimensions of ITIL 4 are an evolution of the four Ps seen in ITIL V3 (People, Products, Processes, Partners). They have been revised to consider the broader aspects of the service ecosystem (and the way these aspects influence each other) to encourage a change in the way we think about service value streams. 
Organizations and People
The human aspect: The people doing and managing the work.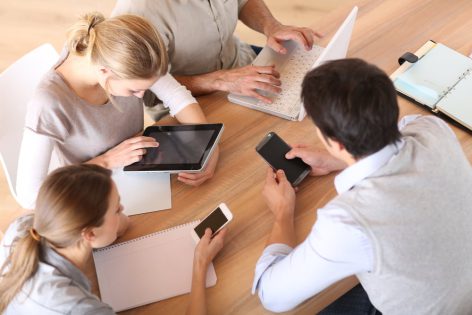 The organizations and people dimension sets out the people aspects of service management to be considered when designing, operating and changing service offerings. People include employees, managers, executives, customers, supplier employees, or anybody else who is involved in the creation or consumption of services. 
Key considerations of the organizations and people dimension
 are
:
Organizational structure

: Are your organizational structures (hierarchies, teams, roles, and responsibilities) geared to enable value creation? Can activity be clearly mapped to 

roles

?

ITIL 4 brings new guidance on how IT people work together. For example, flat organizations which are oriented around the flow of value streams (horizontal) tend to perform better because their structure is optimized for flow efficiency (versus a hierarchy which is geared for resource efficiency).

Governance

:

 Do your 

governance structures

 balance flexibility versus risk

?

 

Are people free to 

make decisions and 

adapt the way they work

?

 

Culture

: 

Is your culture collaborative? 

Are 

people

 focused on delivering value to customers, or 

operating 

processes and technologies

?

 

Communication

:

 Do your communication practices 

support teams

 work

ing

 together to deliver value? 

What is the potential impact

 on the 

customer 

if stakeholders fail to communicate?

 

Capacity

: Do you have enough people to support your practices/capabilities? Are human capacity bottlenecks slowing down value delivery?

Do you need more people, or would automation and AI help?

Competence

: Are your people trained to operate and manage services and value 

streams

 in an efficient manner? 

Where can weaknesses be remedie

d

with education?

Interfaces

:

 

What are the face-to-face and

 digital touchpoints between teams?

 Do these support the 

flow of 

your value streams

?

 
Value Streams and Processes
How the work happens. And why.
Value Streams and Processes introduces the new Service Value Chain which is central to ITIL 4. In ITIL V3, the service lifecycle structure established a linear flow—strategy, design, transition, operation, and CSI. The ITIL 4 service value chain model is more flexible—evolved to support linear flows and iterative approaches (such as Agile)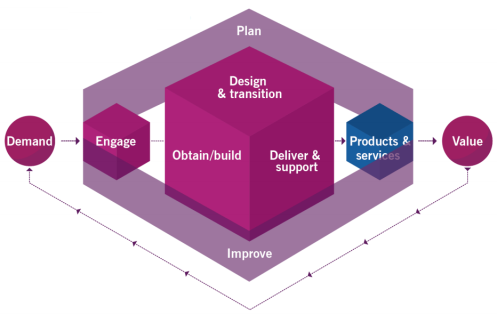 The service value chain is an operating model which helps you describe how a value stream (the delivery process of a service) flows across various activities from demand to supply. The ITIL 4 service value chain model is generic and flexible, enabling any combination of steps to support different patterns of delivery. Each service value stream (the chain of activity which outputs an outcome for the customer) combines different types of activity in a different order. Unlike the ITIL V3 service lifecycle, it isn't linear: a value stream can jump back and forth as necessary. Organizations should map a value stream for every product or service to provide a holistic picture of how value is created. 
The ITIL 4 Foundation volume provides examples of how the service value chain operating model supports creation of different types of value, including: IT incident response, resolving a software issue, creating an IT service, and the development of new software. 
When considering the value streams and processes dimension
, 
think about:
What is the definition of value here? Why are we doing this?

Which steps are creating value and which steps are waste (e

.g.

 add no value for the customer)?

 

Which steps are (or could be

)

 automated?

 

Which steps are performed manually by a human being?

 

Which steps are performed by a third party?

 
Remember, focus on value, or there is a risk that waste activity will displace value-creating activity—and compromise your productivity. It's waste that stops you from doing more with less.
---
RELATED: Why Processes are now Practices in ITIL 4
---
Information and Technology
How information and tools help create value.
In the Information Age, information (and technologies which store and process of information) are critical enablers of value delivery. Indeed, in many cases—like Google's search engine—information is the value. When thinking about information and technology, we must consider two angles: How they support individual service value streams and how they support the broader service management capabilities which help you manage your service portfolio: 
What 

information do

 

you need to create, reference, 

or change to deliver value

?

 

What 

are the inputs

/

outputs of each step in the 

value stream

? W

hat 

information outputs 

does 

the customer 

want

?

 

Wh

ich

 technology 

component

 make up the service

?

 

What

 

processing, storage

, 

network

 

and digital interface 

components 

do you need to create 

and transfer 

value?

 

What i

nformation 

do 

you need to support service management

 capabilities

?

 

What do you need to know about volumes of demand, capacity, infrastructure, operations, customer satisfaction, costs, and other aspects of service management to run an efficient service portfolio?

 

Performance

: 

Are current suppliers performing as expected?

 

Can

 they handle peaks in demand?

 

 

What t

echnology 

do 

you need to support service management

?

 

S

uccessful s

ervice management at enterprise scale is always underpinned by 

service management 

technology

. What tools do you need to run an efficient and effective service portfolio? For example, 

CMDB

, 

process

automation

, a knowledge database, service catalog, queue management, event monitoring, reporting and analytics.

Other aspects you need to consider are skills and security

.

 Do you have the right people to build, maintain, 

secure 

and support the technology you are bringing in? For example, organizations launch

ing

 n

e

w information services based on big data 

architectures are 

finding it difficult to find people

 

with 

the right

 skills

.

 

Cybersecurity 

headlines continue to 

highlight

 the 

potential damage

 

to brand

 reputation. 

S

ecurity should be "baked in" to a service at design stage

—

not 

simply 

applied 

as an afterthought.

 




Partners and Suppliers

Thinking about the broader service ecosystem.

Every organization is a provider and consumer of services—they need partners and suppliers to help deliver their own services. However, the breadth and depth to which organizations integrate suppliers into their value chains varies depending on in-house capabilities, sourcing biases, and regulatory requirements. 

When considering the partners and suppliers dimension

, 

think about:

 

Strategy

:

 Which capabilities 

do you want to retain in-house, and what do you need to outsource to access specialist capabilities?

 

Scarcity

:

 

Do 

you

 have 

people with the right skills, or do 

you

 need to use partners to fulfil certain capabilities?

 

Cost

: How does the cost of outsourcing compare to the cost of

 

your 

in-house capabilit

ies

?

 

Relationships

: Do

 you have good relations with supplier representatives, including support people?

 Are they responsive to 

incidents and requests for change?

 

Flexibility

: Do 

your supplier 

contracts allow

 for quick and simple changes without penalties

, or 

do

 

they

 require renegotiation

?

 

Internal and external influences

 

Internal and external influences (see Figure 1) are a broad set of factors which influence how you run service management. These factors must be addressed in the design and operation of service value streams to ensure services fit into the broader context of your business and your industry. ITIL 4 uses the PESTLE framework to systematically address Political, Economic, Social, Technological, Legal, and Environmental factors. For example, political regulations like GDPR and HIPAA require particular ways of doing things to ensure consumers and their privacy are protected. 

Balancing the four dimensions

 

Singular focus on any one dimension causes issues across other dimensions. The key to balancing the four dimensions is to consider all factors when designing services; not as an afterthought. When a service value stream changes, all four dimensions should be re-considered. If not, the value chain may become unstable. Considering all the factors when applying change will help you to maintain an equilibrium throughout the lifetime of a service.

MORE ABOUT ITIL 4