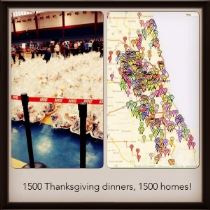 It's that time of year again, with the holiday season fast approaching.  It's a good time to reflect and think about what we are thankful for.  In Chicago, a wonderful organization called the Chicago Thanksgiving Basket Brigade builds and hand delivers Thanksgiving baskets with food essentials for Turkey Day to families in need around the Chicago area.  This year they delivered 1,500 baskets, and each year they scale their operation.
That got us at IFS thinking.  250 volunteer drivers delivered 1,500 baskets in one day, covering more than 2,200 miles (according to the organization).  What amazing things they could do, and how large they could grow, if their operation was optimized.
IFS Mobile Workforce Management would not only allow them to generate efficient routes for their drivers, but do it in a way that saves the volunteers money and time.  Our product gives field coordinators complete field visibility with unique features like the Scheduling Workbench.  It also gives the management team tools to forecast future needs in the field with tools like the What-If-Scenario planner and Target-Based scheduling.  You can scale any services operation easily with such optimization and automation at your fingertips.
This year, the people out in the field deserve our thanks.  Whether they are the generous volunteers that delivered those baskets in Chicago this Sunday, or those tireless technicians that call their vehicles a second-home, many with dangerous jobs, we salute you and we are very thankful for you.
We at IFS are also very thankful for our customers and partners, which have made us the thriving enterprise software company that we are today.
We look forward to spending another year next year helping organizations of all sizes, non-profit and for-profit, optimize their service delivery.
Please check out the Chicago Basket Brigade to learn about their 2015 plans and processes and consider donating to this great cause.
For more information about IFS, please email request@ifsworld.com.
Happy Thanksgiving to our American readers, and thanks to all of our readers around the world.
Image courtesy of the Chicago Thanksgiving Basket Brigade